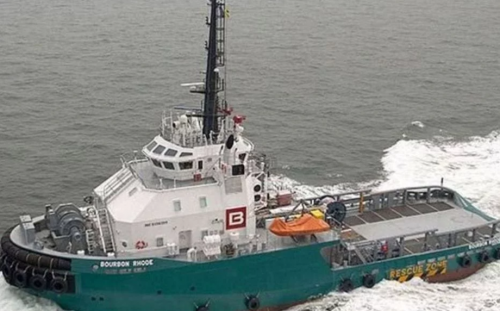 Bourbon Offshore has confirmed that the body of a fourth Bourbon Rhode crew member has been recovered as the search for seven missing seafarer continues in the middle of the Atlantic.
The body of the victim was recovered and transferred to the French Navy frigate Ventôse.
"On behalf of BOURBON, I would like to express our condolences to the family and friends of the deceased seafarer. We are at their side to accompany them through this terrible ordeal," said Bourbon Crisis Cell Director Cyrille Le Bris. "Despite significant search resources for the rescue of the crew, the fate of the missing is an ever-increasing source of anxiety for the families. We remain fully mobilized to pursue relief operations and reiterate our warm thanks to all the teams that have volunteered and are helping us in our search."
The news comes as the search for the missing seafarers closes in on one week.
The Bourgon Rhode, with 14 people on board, sank last Thursday during a voyage from Las Palmas, Gran Canaria to Georgetown, Guyana after experiencing heavy weather from category 4 Hurricane Lorenzo. Three of the vessel's crew members were subsequently rescued while a search involving multiple government and commercial assets, including over ten ships that were diverted to assist.
"Over the past 7 days, an exceptionally extensive search operation has been implemented by the CROSS French West Indies-Guyana (Regional Operational Centre for Surveillance and Rescue) and the French Navy, under the authority of the Prefect representing the State's maritime authority, with the support of the American authorities," Bourbon said in an update on Wednesday. "Significant maritime and air resources continue today to be deployed over research areas."
Bourbon's announcement on Wednesday brings the confirmed death toll to four. One victim was recovered Sunday, followed by two more victims on Monday night.
The identity of the victims has not been disclosed.
The Luxembourg-flagged Bourbon Rhode is a 49.5-meter double azimuth stern drive tug with 100 metric ton bollard pull. The vessel was built in 2006 and is classed by Bureau Veritas. It is equipped with one Norsafe rescue craft with davit, in addition to liferafts. The vessel has rated speed of 13.5 knots.