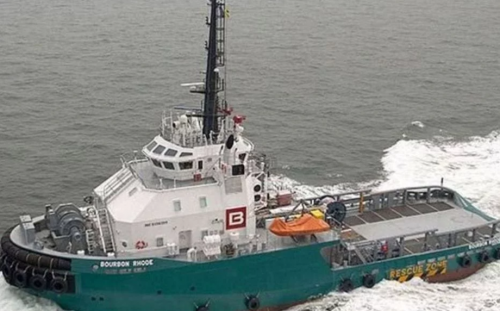 French offshore services company Bourbon is mourning the seven seafarers still missing after the Bourbon Rhode AHTS sank in the Atlantic Ocean more than a week ago.
In its first update on the search in nearly three days, Bourbon Offshore indicated that the active search operations led by the CROSS French West Indies-Guyana and the French Navy are winding down.
The search so far has successfully located three survivors from the Bourbon Rhode, as well as the bodies of four crew members. Seven crew members remain missing.
Bourbon said the CROSS will now transition to disseminating messages to vessels in the area to ask them to carry out an adapted watch.
The French Navy frigate Ventôse left the search area on Friday with the three survivors and the recovered victims after nearly five days on scene with a Panther helicopter.
More than ten commercial vessels were diverted to assist over the course of the search. Aircraft from the French Navy along with U.S. NWS National Hurricane Center also participated in the search.
The Bourbon Rhode, with 14 crew on board, sank last Thursday, Sept. 26, during a voyage from Las Palmas, Gran Canaria to Georgetown, Guyana after experiencing heavy weather from category 4 Hurricane Lorenzo.
Three of the vessel's crew members were subsequently rescued from a life raft. Searchers also located an overturned fast rescue craft from the vessel.
"BOURBON and all its employees are in mourning today and I would like to reiterate our sincere condolences and our full support to the families and loved ones of the victims," said Bourbon CEO Gael Bodénès. "We are working in close cooperation with the various stakeholders to understand the facts and circumstances of this tragedy. Finally, we thank the entire maritime community for its many signs of solidarity, so precious in these difficult times. I would like to reiterate our heartfelt thanks to the CROSS teams, the crews of the French Navy and the commercial vessels involved in search operations."
The Luxembourg-flagged Bourbon Rhode is a 49.5-meter double azimuth stern drive tug with 100 metric ton bollard pull. The vessel was built in 2006 and is classed by Bureau Veritas. It is equipped with one Norsafe rescue craft with davit, in addition to liferafts. The vessel has rated speed of 13.5 knots.