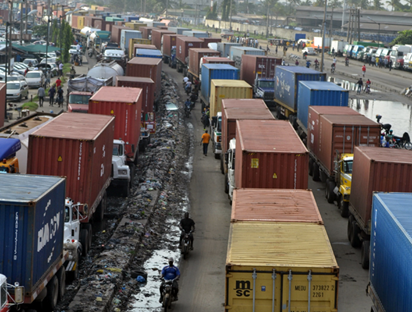 Gov. Akinwunmi Ambode of Lagos State, on Monday extended the activities of the Joint Security Task Force to restore sanity to Apapa area of the state by 30 days.
This was part of a 10-point resolution read by Ambode, through the State Commissioner for Transportation, Ladi Lawanson, after a meeting with critical stakeholders on Monday at the Lagos House, Ikeja.
The task force was constituted jointly by the Federal and Lagos State Governments.
Ambode said that sanctions for shipping companies for non-compliance in utilisation of holding bay had been extended for five days, while trucks not called upon and found trampling would be impounded and sanctioned.
According to him, the state government has suspended approval for development of tank farms, while it accelerates the completion of the Orile trailer park.
Ambode said all truck owners must be duly registered and well regulated by their unions, adding that the unions would be accountable to their adherence to extant rules and regulations.
He said that the Nigerian Ports Authority (NPA), in collaboration with the state government, would licence truck parks whereby any truck housed in designated parks would be granted access.
Ambode said that tank farms without adequate holding bays within 30 days would be sanctioned, while the Department for Petroleum Resources (DPR) was to ensure that tank farm owners complied with holding bay requirement.