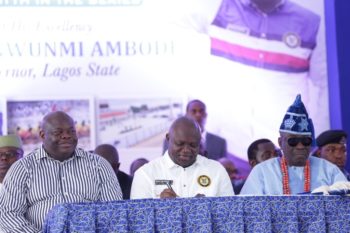 The Lagos State Governor, Akinwumi Ambode has directed truck owners parking along the Ijora-Apapa Road and Lagos Island areas to utilise the Asiwaju Bola Ahmed Tinubu Truck Terminal in Ijora.
Ambode made the call on Tuesday at the second quarter of the 2018 Town Hall meeting held at the Apapa Local Government Area.
The governor said that the ABAT Truck Terminal, which is still undergoing construction, could accommodate about 300 trucks for now.
Upon completion, it is expected that the terminal would accommodate 3,000 trucks.
He said, "Our moving the town hall meetings around the various local government areas have helped us to connect with the people.
"It has also helped us to make policies and carry out projects that are based on the needs of the people. This has enhanced governance and delivery.
"We want to listen and discuss with the people in Apapa; so we can find a lasting solution to the problem of traffic gridlock in this area."
Ambode disclosed that his administration had initiated the construction of the ABAT truck terminal in Ijora as part of the solutions to the traffic gridlock in that part of the state.
He said, "We believe it is a strong solution, as that terminal when completed, will be able to accommodate about 3,000 trucks at once.
"We will work with security agencies on how we can move the trucks off our roads to the terminal. For now, the terminal can take about 300 trucks but it is been underutilised.
"We urge truck owners to utilise the terminal to reduce traffic gridlock on the roads in Apapa and Lagos central axis."
The governor also promised that the state government would soon open up the newly constructed roads from Trade Fair Complex to CMS for public use.
He said, "Part of the solutions to traffic gridlock in this axis is the reason we want to open up for use the roads from Trade Fair Complex, Orile/Mile 2 up to CMS.
"Let us start to use the roads we have already fixed. We do not want to wait until we complete the road construction up to Seme."
Ambode revealed that the state government could not take up the construction and rehabilitation of the Tin Can Road, saying it is a Federal Government road.
He said, "It will not be easy taking up Tin Can Road because it was not easy to get approval from the Federal Government for the construction of the International Airport Road.
"And we do not want to take too many projects into our hands. We will support the Federal Government by offering palliative measures to ameliorate the pains and hardship being experienced by users of the road."