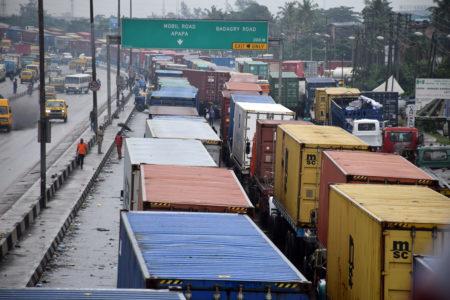 By Ace Omozuwa
Lagos is the heartbeat and glory of Nigeria. Some avid lovers of Abuja may find this difficult to accept. The port city has an estimated population of over 21 million people. This means it is the largest city in Africa. Also, she is the commercial nerve centre of Nigeria. This may help to explain why her Internally Generated Revenue (IGR) exceeds that of 30 states put together. A 2017 report by Economic Intelligence magazine showed that "the IGR of Lagos State of N302bn is higher than that of 30 States put together excluding Ogun, Rivers, Edo, Kwara and Delta States whose IGRs are very impressive at more than 30% each. The 30 other states merely generated a total of N258bn in 2016."
However, the impressive economic capabilities of Lagos are not fully harnessed due to many factors. Key among these factors is the debilitating state of socioeconomic infrastructure within the state. There is a deficit of critical growth drivers in the conurbation due to decades of neglect and the politicization of development. Until 2015, the ruling party in the state differed from the ruling party in Abuja. Many development experts and political observers opined that such political difference was a possible reason why the federal government did not play appreciable roles in renewing the infrastructural asset of the metropolis. This sentiment was fuelled by the prolonged faceoff between the federal government and the state government during the Obasanjo-Tinubu era. Hence, when the All Progressives Congress (APC) became the ruling party both in Lagos state and in Abuja – the seat of federal power, many expected that there will be an inspiring reversal of fortune. Three years after, it appears to be mere wishful thinking, particularly, as the Apapa gridlock worsens.
Policymakers seem to have ignored the economic rationales for road construction, maintenance, and the fact that Lagos is a massive economic powerhouse where different sectors of our economy thrive. Without functional networks of roads, bridges, seaports, and airports, the city is bound to regress to the backwaters.
According to the World Economic Forum, "Roads are the arteries through which the economy pulses. By linking producers to markets, workers to jobs, students to school, and the sick to hospitals, roads are vital to any development agenda. Since 2002, the World Bank has constructed or rehabilitated more than 260,000 km of roads. It lends more for roads than for education, health, and social services combined."
In many ways, good roads are good for business development. They conduce to the ease of doing business. Last week Wednesday, Nigeria dropped a spot on the 2018 World Bank Ease of Doing Business ranking, which shows that Nigeria made significant progress last year and "moved 24 places from its 2016 spot of 169 to 145." Sadly, this year, Mali outdid Nigeria, while Mali occupies the 146 rank, Nigeria is ranked 147. Government in its efforts to ensure that "Nigeria means business" is not mere rhetoric should pay due attention to infrastructural renewal.
If government gleaned wisdom from a 2008 World Bank report with the caption, "Overhauling the Engine of Growth: infrastructure in Africa", Apapa gridlock would have been confined to history. The said report, in part, states: "In most African countries, particularly the lower-income countries, infrastructure emerges as a major constraint on doing business and is found to depress firm productivity by around 40%. For most countries, the negative impact of deficient infrastructure is at least as large as that associated with crime, red tape, corruption, and financial market constraints."A study by the National Planning Commission (NPC) further accentuates the point: "Nigeria's current transport infrastructure is not aligned with the country's aspiration to become one of the world's 20 largest economies by 2020."
In fact, one does not need to be an economic guru to know that dilapidated socioeconomic infrastructure is detrimental to economic development. No nation can develop sustainably without paying due attention to building and maintaining critical infrastructure of growth, such as roads, bridges, airports, seaports, electricity, et cetera. Economically, it is foolhardy that the access road to the ports that account for 80 per cent of import to and export from Nigeria is a source of daily nightmare to road users.
Good roads within Apapa and indeed everywhere are critical to national security. Apart from the fact that good roads aid movement of military personnel, they contribute to the safety of road users, and economic agents. They are trade facilitators. When bad roads endanger trade and commerce, they also endanger national security. National security is compromised when producers cannot access consumers on time, when students cannot get to schools with relative ease, when the sick cannot get to the hospital with relative speed, when workers cannot get to their workplaces without undue delays, when worships cannot get to their places of worship without enduring many afflictions, all because of bad roads.
In 2012, DaronAcemoglu, and James A. Robinson published a seminal piece in Foreign Policy with the title "10 Reasons Countries Fall Apart." They noted that "States don't fail overnight. The seeds of their destruction are sown deep within their political institutions." According to the duo, states fail because of bad public services, and they cited Peru as an example. To amply the importance of good roads to economic prosperity and democratic consolidation, let me quote them extensively: "Calca and nearby Acomayo are two Peruvian provinces. Both are high in the mountains, and both are inhabited by the Quechua-speaking descendants of the Incas. Both grow the same crops, yet Acomayo is much poorer, with its inhabitants consuming about one-third less than those in Calca. The people know this. In Acomayo, they ask intrepid foreigners, "Don't you know that the people here are poorer than the people over there in Calca? Why would you ever want to come here?
"Indeed, it is much harder to get to Acomayo from the regional capital of Cusco, the ancient center of the Inca Empire, than it is to get to Calca. The road to Calca is paved, while the one to Acomayo is in terrible disrepair. To get beyond Acomayo you need a horse or a mule — not due to any differences in topography, but because there are no paved roads. In Calca, they sell their corn and beans on the market for money, while in Acomayo they grow the same crops for their own subsistence. Acomayo's people are one-third poorer than Calca's as a result. Infrastructure matters."
Bad roads are not impassable obstacles to economic development when government is proactive. But if their propositional attitude to the tenets of good governance is not positive, the privatization of public funds will be a norm while lip service will be paid to improving socio-infrastructural amenities.
In the 21st century, good governance aspires to restore the Garden of Eden by prudently managing public funds, not by waiting for some otherworldly forces or aid agencies. In other words, if the "2018 budget which had allocated N2.87 trillion to capital expenditure, albeit infrastructure development" is implemented very well, it could be said that Nigeria is taking baby steps to Eldorado. Worrisomely, budget implementation may be low this year.
Apapa's perennial gridlock seems to suggest that political office holders are unmindful of the fact that if the economic heartbeat of Nigeria paralyses, the fragility of the Nigerian state will worsen.
Apapa gridlock mirrors the sorry state of affairs in Nigeria. It sounds like a cliché, yet, reiterating it is not unwise: we do not have a maintenance culture. We do not fix potholes until they become deathtraps or the roads are no longer motorable. Isn't it a telltale sign of bad governance?  Whenever government officials try to rationalize their inability to put an end to Apapa gridlock, they inevitably create the misleading impression that it takes an army of angel to construct good roads.
Copyright Ships & Ports Ltd. Permission to use quotations from this article is granted subject to appropriate credit given to www.shipsandports.com.ng as the source.