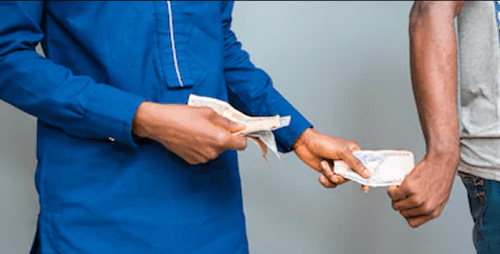 Nigeria has been rated the most corrupt country in West Africa.
Transparency International, a global corruption watchdog placed Nigeria 27 out of 100 in TI's 2018 report but dropped by a point in 2019, making Africa's most populous country take the 146th position.
TI's latest report states that Africa's most populous country like most other countries in Sub-Saharan nations has continued to witness a high rate of corruption which has now worsened due to vote-buying.
Nigeria scored 28 out of 100 in 2016 and 2017 but fell in 2018 to 27 and fell further to 26 in 2019.
In the latest report, Nigeria scored the same as Iran, Honduras, Guatemala, Bangladesh, Mozambique and Angola.
Out of 180 countries surveyed, Nigeria scored better than only 28. They include – Comoros, Cameroon, Central African Republic, Uzbekistan, Tajikistan, Madagascar, Zimbabwe, Eritrea, Nicaragua, Cambodia, Chad, Iraq, Burundi, Congo, Turkmenistan, Haiti, Democratic Republic of Congo, Libya, Guinea-Bissau, North Korea, Venezuela, Equatorial Guinea, Sudan, Afghanistan, Yemen, Syria, South Sudan and Somalia.
The TI survey measures public sector corruption in 180 countries.
The countries with the highest score were New Zealand and Denmark which both scored 87 out of 100. Others that were highly placed include- Finland (86), Switzerland (85), Singapore (85), Sweden (85), Norway (84), Netherlands (82), Luxembourg (80) and Germany (80).
FG reacts
Meanwhile, Attorney General of the Federation and Minister of Justice, Abubakar Malami has berated Transparency International for naming Nigeria as the second most corrupt country in West Africa.
Malami said there was no evidence to back the report by TI, which placed Nigeria at 146 out of the 180 countries on the 2019 corruption perception index.
He said, "In terms of the fight against corruption, we have been doing more, we have done more and we will continue to do more out of inherent conviction and desire on our part to fight against corruption devoid of any extraneous considerations relating to the rating by Transparency International.
"Our resolve to fight corruption is inherent and indeed devoid of any extraneous considerations, we will continue to do more and we will double efforts."  
Copyright Ships & Ports Ltd. Permission to use quotations from this article is granted subject to appropriate credit given to www.shipsandports.com.ng as the source.