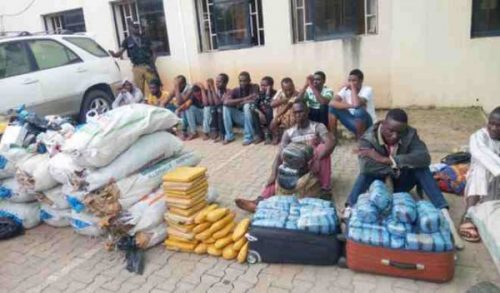 The National Drug Law Enforcement Agency (NDLEA), Murtala Muhammed International Airport (MMIA) Command, Lagos, arrested 101 suspected drug traffickers in 2019.
NDLEA Commander at the airport, Garba Ahmadu, said no fewer than 101 suspected drug traffickers, comprising 87 males and 14 females, were arrested at the airport between January and December 2019, out of which 36 were convicted.
"The record of arrest in the year under review indicates that there is increase in the number of persons arrested from 93 persons in 2018 to 101 persons in 2019, showing 8.6% increase.
"Also, the number of seizures/cases recorded in the year under review has also increased to 76 seizures/cases from 73 in 2018, showing an increase of 4.11%," Ahmadu said.
The NDLEA commandant said 377.801kg of narcotic drugs were seized in the period under review as against 5,377.125kg recorded in 2018. The narcotics include cocaine (34.109kg), heroin (21.72kg), cannabis sativa (168.922kg), methamphetamine (94.18kg), ephedrine (196.860kg), tramadol (0.28kg) and diazepam (30.450kg). 
He said Ethiopian Airlines, South African Airways, British Airways and Emirates were the most frequently used airlines by drug couriers in Nigeria.
"Most of the arrests for 2019 were made on Ethiopian Airlines, about 24% of the exhibits came from that airline and about 19 persons were arrested. We also arrested about 13 persons on South African airlines, 10 persons on British Airways and seven persons on Emirates," Ahmadu said.
"It was discovered that most mode by which the illicit drugs were concealed during the period under review were luggage packing followed by cargo packing which accounted for about 80% of the seizures and the remaining 20% were through injection and anal insertion. We had two cases where people swallowed the illicit drugs," he further stated. 
He appealed to the Federal Government to provide the command with scanners for effective campaign against drugs trafficking. 
"We need to go for the latest scanners. A lot of airports have gone the way of API, which is Advanced Passengers Information. It will enable us target who we want to target by not subjecting other people to unnecessary search," he added.