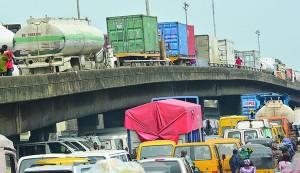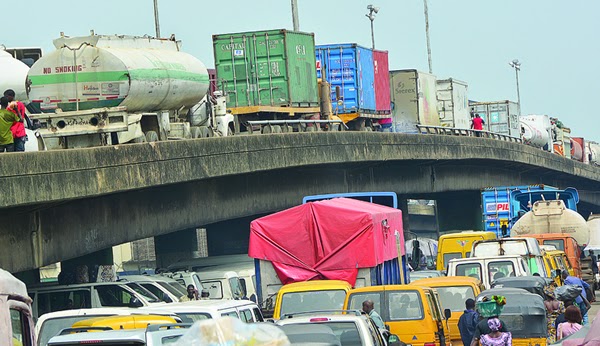 The Federal Road Safety Corps (FRSC) on Wednesday raised alarm over the road congestion caused  by petroleum tankers and articulated vehicles on bridges in Lagos, saying they were dangerous and had damaging effects.
The Lagos State Sector Commander of the FRSC,  Hyginus Omeje, raised the alarm in  Lagos against the backdrop of the recurring gridlock on the Apapa Road bridge.
" We are sitting on a keg of gun powder because the bridges are weakening on a daily basis as tankers, trucks and articulated vehicles are parked on top of them, due to traffic congestion.
" When these vehicles are stationary on the bridges for a long time, they have a negative impact, including deterioration, bridge-fatigue, damage or even collapse; moreover, there is no money anywhere now to build these kind of solid bridges again.
"The Ijora, Eko, Carter and Third Mainland bridges are expensive projects that require huge capital to execute.
"So, it is urgent that we do whatever we need to do, to preserve these bridges, so as to make them last longer.''
Omej said that the primary mandate of the corps was to ensure that all routes were safe for motorists.
According to him, the lingering gridlocks in Apapa are as a result of many factors.
"The issue of Apapa traffic congestion is multi-faceted; you cannot address the gridlocks in the area without addressing the state of the roads.
"These gridlocks cannot be controlled without proper road rehabilitation in the area.
"There is need to speedily work on the road network there, as well as the drains,'' he said.
The sector commander added that the corps had also commenced a special traffic control exercise in Apapa, to curb the lingering traffic challenges in the area.