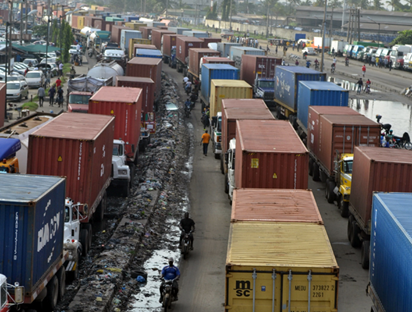 In other to tackle gridlock caused by indiscriminate parking of articulated vehicles in Apapa and other areas in Lagos, the state government has acquired a large land at Ojo for the construction of a trailer park.
The Commissioner for Transportation, Ladi Lawanson, who disclosed this to journalists in an interview in Lagos, said that the construction of the park would ease traffic significantly.
He said, "Recently, we got information that there is land available around Ojo.
"We found a land that can potentially be used to take some of these trucks off the roads; the logistics involved is being borne solely by the Lagos State Government."
Lawanson said that the government would soon begin construction of the trailer park to complement other efforts being put in place to ensure that trucks are off the roads.
He noted that gridlock in Apapa had defied solutions for a long period because of lack of holding bays and that the Apapa ports took care of about two-thirds of daily cargoes in and out of Nigeria.
Lawanson said that construction of the truck park would be one of the ways of tackling the problem of overstretched infrastructure.
He said, "Because of the importance of petroleum products to the nation, Lagos will continue to bear the brunt for the rest of Nigeria.
"That is why are calling on the Federal Government to give Lagos a special status."
The commissioner, however, hailed the Managing Director of the Nigerian Ports Authority, Hadiza Bala-Usman, and the Minister of Transport, Chief Rotimi Amaechi, for their efforts in tackling congestion in Apapa.
He said that the Lagos State Government would continue to partner with Federal Government agencies and other stakeholders to ease congestion in Apapa and other roads in Lagos.