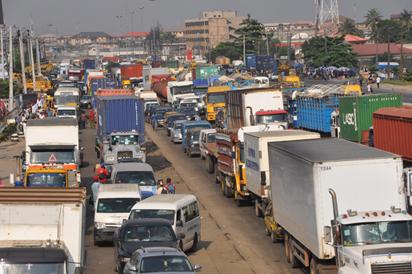 The Nigerian Navy (NN) has rescinded its decision to withdraw its personnel attached to the Joint Taskforce put in place to control traffic gridlock occasioned by activities of articulated vehicles within Apapa and its environs.
It would be recalled in a press release made available to SHIPS & PORTS DAILY on Tuesday, the Base Information Officer of NNS Beecroft, Lt. Commander Charles Sele Brinemigha said the withdrawal had become necessary as a result of series of allegations and most recently, attacks on naval personnel and vehicles by miscreants in the guise of protest.
However, usually reliable sources at the NNS Beecroft informed SHIPS & PORTS DAILY on Wednesday that the Chief of Naval Staff, Vice Admiral Ibok-Ete Ekwe Ibas intervened in the face-off between officials of the Nigerian Navy and truck drivers in Apapa. He also directed officials of the NNS Beecroft to return to their duty posts on Wharf Road and Creek Road, Apapa to forestall total lockdown of the port community.