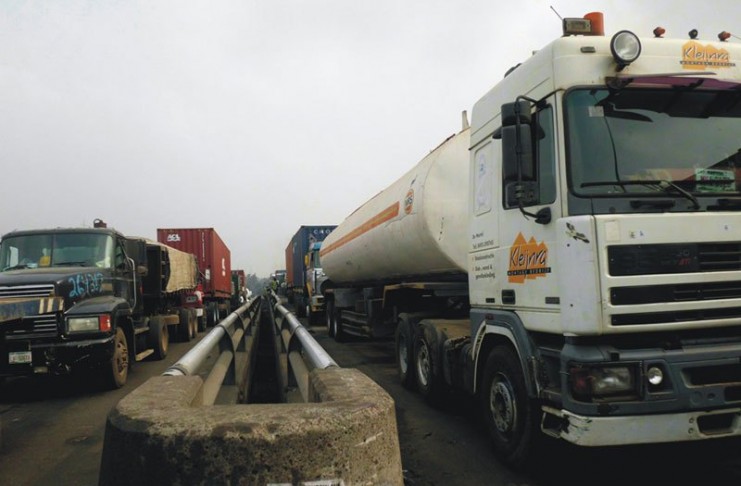 After withdrawing their service for six days, truck drivers operating at the seaports in Lagos have called off their strike action.
The truck drivers embarked on a strike action last Friday over the failure of the truck call-up system introduced by the Nigerian Ports Authority (NPA) to manage the Apapa traffic gridlock.
The strike was called off after the Nigerian Shippers Council (NSC) brokered a peace meeting between the truck drivers, Nigerian Navy and the NPA.
At a meeting held at the Council's headquarters in Apapa on Thursday, the Executive Secretary of NSC, Hassan Bello urged the truck drivers to return to the port.
He said, "We have persuaded them (truckers) to go back to work. We just came out of a meeting between the truck drivers, NPA and the Nigerian Navy. The truckers' complain has been on holding bay and it is something we need to sit down and discuss."
Bello also disclosed that shipping companies want to charge for containers going to holding bay but they have stopped it.
Chairman, Dry Cargo unit of the Nigerian Association of Road Transport Owners (NARTO), Abdullahi Inuwa, also confirmed to SHIPS & PORTS DAILY that the strike has been suspended.
Meanwhile, terminal operators have raised alarm over the inability of vessels to berth at the seaside due to the return of queue occasioned by the strike embarked upon by truck drivers which they said had led to congestion at the ports and increased the turnaround time of vessels to 30 days.
It was gathered that shipping companies have been unable to give clearing agents rotation number because of the congestion at the seaside, which will also increase cargo dwell time at the port.
A manager in one of the container terminals told journalists that vessel queues are forming at the seaside.
He however warned that if the strike is not resolved before Sunday, the terminal may not be able to service the seaside anymore.
He said, "The seaside is congested now and we may not be able to service the seaside until the containers are moved from the port."