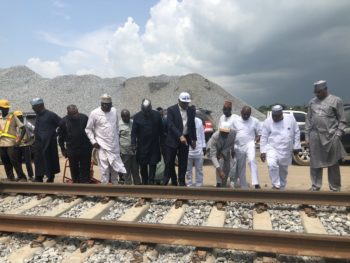 The Chairman of Senate Committee on Land Transport, Gbenga Ashafa, has expressed doubts over the December delivery date of the Lagos-Ibadan standard gauge rail line.
The lawmaker expressed his reservations when he led members of Land Transport in the Senate and House of Representatives on an oversight function on Thursday.
Other lawmakers on the team are Senator Lanre Tejuoso and the Chairman of the House Committee on Land Transport, Aminu Sani Isa.
He expressed satisfaction at the pace of work, saying the pace showed that the contractor was determined to deliver on schedule.
Addressing reporters after the inspection, Ashafa noted that though his committee was satisfied with the level of work on the project, he doubted if it could be delivered on schedule.
He added that the project was about 70 per cent completed.
According to him, the contractor requested an extension of the deadline, hinging the requests on some challenges on the project's corridor.
Ashafa listed some of the challenges to include encumbrances on the right of way on the Lagos corridor, the relocation of water pipelines, bridges and the relocation of the railway station proposed for Abeokuta, the Ogun State capital.
He said, "While we would hasten to urge the contractor to adhere to the deadline, we would want to say that they should let the Nigerian government know on time if they would need more time to deliver on this project."
The senator said he and his team were happy with the level of progress on the project, adding: "Even if what we have seen here from Lagos up to Ibadan – is what this government was able to showcase before December, Nigerians would know that the government is committed to bequeathing to them a modern rail system."
Also, Isa said the oversight visit was to avail Nigerians an opportunity of verifying that the work rate matched government's disbursements.
The Managing Director of the Nigerian Railway Corporation, Fidet Okhiria, said the Federal Government was committed to delivering the project by December.
He added: "With the rate at which the contractor is going, we are sure that it could still be completed on schedule or within a month or two more months, nonetheless. The major issues are civil works, as the track-laying can be completed within a month or two."