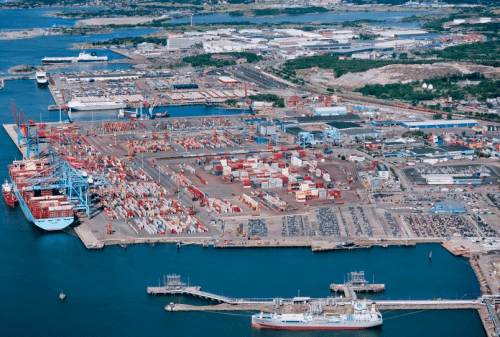 APM Terminals is aiming to have a fossil free container terminal in the Port of Gothenburg by 2020.
The Danish-owned terminal operator has launched the "Green Gothenburg Gateway" which sees its terminal in the port aiming to become fossil-fuel free next year.
Measures to achieve this goal include electrically operated cranes and gates, terminal buildings heated with biogas, and more than 40 straddle carriers to be fuelled by HVO100 – a renewable diesel biofuel. The plans are all to be implemented in 2020 the Port of Gothenburg said.
The Port of Gothenburg has offered shoreside power for vessels since the early 2000's and Gothebgurg Port Authority says it has been carbon neutral since 2015.
APM Terminals Gothenburg has already put into practice programme to optimise the time spent by vessels at berth and now 97% of vessels depart on time, despite 22% arriving late. The terminal operator also plans to double its freight volumes transported by rail.
As a whole the Port of Gothenburg aims to reduce port-related carbon emissions by 70% by 2030 in both the port itself and an area extending 15 km west of outer port entrance to the city boundary.
"This is unique. There is no other port in the world that is working according to such a strict environmental target. But despite our spirit and determination, it will be difficult to realise our goals if we do not have the major players in and around the port with us all the way. We are extremely pleased with the investments that are being made by APM Terminals Gothenburg," said Elvir Dzanic, chief executive of Gothenburg Port Authority.