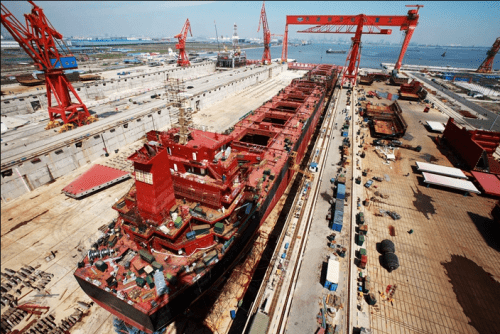 The world's largest shipbuilder China Shipbuilding Corp has been on a roll over the past week bringing its orderbook to over USD 4.2 billion.
The ordering spree has been sealed at a reception held within Marintech China in Shanghai on December 3, following the grand reveal of the newly-created shipbuilding conglomerate, resulting from the mega-merger of China Shipbuilding Industry Corp (CSIC) and China State Shipbuilding Corp (CSSC).
The deals galore includes CMES and Dalian Shipbuilding agreeing on the construction of four VLCCs, as well as four newbuilds ordered by Eastern Pacific Shipping estimated to be worth USD 560 million.
These include 2+2 Newcastlemaxes ordered at Waigaoqiao Shipbuilding in addition to 2+2 LNG dual-fuel Suezmaxes at Guangzhou Shipyard International.
In addition, Petredec Holdings (Eastern) has exercised its option for the construction of two additional 22,000 cbm ethylene carriers with Jiangnan Shipyard.
Jiangnan Shipyard also secured a deal for four very large gas carriers (VLGCs) from Sino Gas, two very large ethane carriers from Pacific Gas, and one 3,600 CEU car carrier from UECC.
China's Guangzhou Shipyard International (GSI) won an order for the construction of two methanol-ready tankers from the joint venture between Switzerland-based ship manager Proman Shipping and Swedish tanker shipping company Stena Bulk.
Hudong-Zhonghua Shipbuilding inked a deal for an 18,600 m³ LNG-fuelled bunker vessel from Mitsui O.S.K. Lines (MOL) to be delivered in 2021.
This is in addition to the deal booked by Evergreen at Jiangnan Shipyard and Hudong Zhonghua Shipbuilding for the construction of four 23,000 TEU containerships.
Chongqing Chuandong Shipbuilding Heavy Industry has been entrusted with the construction of two 13,800-ton stainless steel chemical tankers from COSCO.
Furthermore, CSSC has entered into a lease deal with ICBC leasing for a 210,000-ton bulk carrier project, as well as Golar LNG for a floating storage and regasification unit (FSRU) conversion project.
CSSC also entered into a deal with Navig8 for 2+2 duel fuel LR2 tankers.