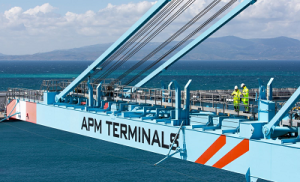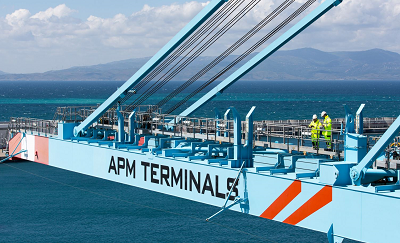 By Oluwatoyin Amao 
Nigeria's leading container terminal operator, APM Terminals Apapa Limited weekend waived handling and storage charges running into several millions of naira on a container load of fish which was donated by the Federal Government to Internally Displaced Persons (IDPs) in Yobe State.
The Federal Government, through the Nigeria Customs Service (NCS), had directed that the 40-feet container laden with Tilapia fish and confiscated by the Apapa Area Command of NCS be released to the Nigeria Army Corps of Supply and Transport (NACST) for onward delivery to Yobe State for the use of IDPs.
According to the United Nations High Commission for Refugees (UNHCR), an Internally Displaced Person is someone who is forced to flee his or her home but who remains within his or her country's borders.
More than 40 million people have become displaced worldwide within their own country as a result of violence, with majority of the new displacements occurring in Nigeria, South Sudan, Syria, Democratic Republic of the Congo and Iraq.
When contacted, the Managing Director of APM Terminals Apapa, Mr. Martin Jacob said APM Terminals is always willing to support the host government in any country it operates in bringing succour to its citizens as a way of giving back. 
Jacob also said that APM Terminals is supporting the Nigerian government's food export drive through the provision of modern cold chain transportation alternatives for farmers in the agricultural centers of northern Nigeria to bring fresh produce intact and unspoiled to market centers in Lagos.
He said the initiative could save an estimated 15 million metric tons of perishable goods, including onions, potatoes, tomatoes, peppers, okra, ginger and carrots, which are lost annually due to poor logistics infrastructure and high transportation costs.
APM Terminals Apapa is the largest container facility by capacity of the three serving Lagos, Nigeria's largest city and business center. It is also the largest container terminal operation in West Africa, having doubled container traffic after concession began in 2006, with dramatically improved productivity.
A USD350 million investment and expansion program was announced for APM Terminals Apapa since 2006. The company currently operates the Apapa and WACT Onne facilities in Nigeria, with plans to develop a third at Badagry.  
Copyright Ships & Ports Ltd. Permission to use quotations from this article is granted subject to appropriate credit given to www.shipsandports.com.ng as the source.