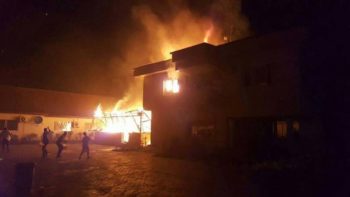 The Nigerian Ports Authority (NPA) on Wednesday sympathised with those affected by the fire that gutted some offices at the Tin Can Island Port Complex (TCIPC), Lagos on Tuesday.
NPA"s Assistant General Manager, Corporate & Strategic Communications, Isah Suwaid, expressed the management's sympathy in a statement in Lagos on Wednesday.
He, however, said that no life was lost.
Suwaid noted that the fire engulfed part of the Ports & Terminal Multi-Services Ltd (PTML) Terminal as well as the "National'' area of the Tin Can port.
"The Authority therefore reiterates its resolve at ensuring that safety and security of lives and property at the nation's seaports are key priorities in its operations across board.
"Stakeholders, operators and port users are therefore enjoined to imbibe the tenets of safety and security as required by the International Maritime Organisation (IMO) and other international agencies in their operations.
"We assure all and sundry of a safe, secure and customer-friendly environment for ease of doing business at the nation's seaports,'' he said.
Suwaid implored port stakeholders to continue with their operations in the port without fear and to be vigilant at all times.
The fire, which started in one of the containers used as an office, affected 40 other offices.
Earlier on Tuesday, a similar fire outbreak happened at the popular NPA building known as "National,'' around the Tin Can Port second gate.
Many clearing agents, food vendors and artisans have their offices located within the commercial building managed by Seaview Properties Ltd., a subsidiary of NPA.