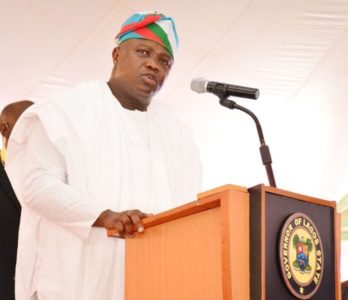 Lagos State Governor, Akinwunmi Ambode has said that arbitration is important in improving the ease of doing business in the country as the regular occurrence of conflicts is inevitable in any human society.
Akinwunmi who spoke at the 2017 Chartered Institute of Arbitrators Nigeria Branch (CIArb) Annual Conference with the theme 'Strengthening the building blocks of Arbitration in Africa' in Lagos stated that Alternative Dispute Resolution (ADR) remained the modern trend and fastest way in dispute resolution, which informed the support the State had given to it.
Represented by the Deputy Governor of the State, Mrs. Idayat Adebule, Ambode said a total of 26, 994 cases have been resolved through the ADR platform in two years.
He said, "Africa must align with the global trend by providing opportunities for speedy and cost effective means of dispute resolution. It is expedient to strengthen the system to achieve one of the key conditions for improving ease of doing business for local and foreign investors.
"In Lagos State, the window of ADR is increasingly being explored by citizens as measured by the number of cases that have been effectively resolved.
"For instance, within a period of two years, 47,918 cases were brought forward for the consideration. Out of this number, 28,444 cases were mediated and 26,994 cases were resolved. During this period, debt related matters valued at over N1billion were successfully settled. It will be extremely difficult to record this level of achievement under the traditional litigation process."
Ambode, while expressing the commitment of his administration to expanding ADR opportunities through establishment of more centres in the State, called for appropriate steps to entrench and institutionalise ADR in the nation's justice system even as he advocated for more awareness campaigns and engagement of experts.
He urged the Institute to collaborate with government and institutions directly involved in the reform of the judicial system.
In her welcome address, Chairman of CIArb, Nigeria Branch, Mrs Adedoyin Rhodes-Vivour, who noted that there was a growing number of African arbitration centres across the region, said that visionary governments were developing their counties into arbitration hubs.
According to her, "The realisation of an internationally-recognised arbitration hub sends the right message to investors. A perception of political and legal stability, a stable and transparent judiciary, a secure and safe environment gives investors the confidence to invest." 
She said that CIArb is collaborating with other institutions in the interest of furthering arbitration and ADR as the preferred means of dispute resolution in the country.
"We are committed to advocating a conducive environment in our jurisdiction for the practice of ADR. The institution provides education and training for arbitrators, mediators, and adjudicators. It also acts as a global hub for practitioners, policy makers, academics and those in business supporting the global promotion, facilitation and development of all ADR methods," she said.