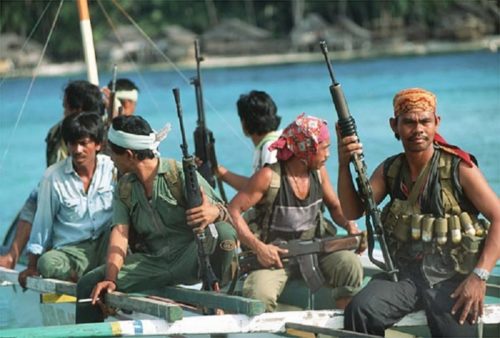 Asian piracy watchdog ReCAAP ISC has warned ship, particularly tug boat, owners to stay alert while transiting the Singapore Strait.
The center urged ship crews to exercise enhanced vigilance, adopt extra precautionary measures and report all incidents immediately to the nearest coastal State.
Additionally, relevant littoral States were prompted to step up surveillance, increase patrols and respond quickly to all reports of incidents.
During January-April 2019, four incidents of unauthorised boarding of ships in locations of close proximity to each other were reported in the western sector of Singapore Strait.
All four incidents occurred to tug boats towing barges and dredger while underway in the westbound lane of the Traffic Separation Scheme (TSS). Of the four incidents, two incidents reported loss of scrap metal, and nothing was reported stolen in the other two incidents. The crew was not injured, ReCAAP informed.
A total of 28 incidents of piracy and armed robbery against ships, comprising 25 actual and three attempted incidents, were reported in Asia during January-June 2019.
According to the regional piracy watchdog ReCAAP, the situation of piracy and armed robbery against ships in Asia continued to improve during the first half of the year.
Both the total number of incidents and the number of actual incidents reported during January-June 2019 are the lowest among the 13-year period of January-June of 2007-2019, ReCAAP noted.
Compared to the same period of 2018, it was a 32% decrease in the total number and a 14% decrease in the number of actual incidents during the first half of 2019. The drop of attempted incidents accounts for the bulk of the decrease in the total number of incidents during the first six months of the year.
A 75% plunge in the number of attempted incidents was reported year-on-year as a total of 12 attempted incidents were reported during January-June 2018.
Of the 28 incidents reported in Asia during the period, two were piracy incidents and 26 were incidents of armed robbery against ships. Piracy incident accounts for 7% of the total incidents and the majority of the incidents reported in Asia were armed robbery against ships.
Speaking of the significance of the incidents, one was CAT 1 incident and involved the abduction of nine crew from two fishing boats on June 18 off Lahad Datu, Sabah, Malaysia.
The abducted crew members were released on June 21 as the abductors could have realised that the abducted crew had no money nor anything to give as ransom.
In May 2019, the Philippine Coast Guard (PCG) reported to the ReCAAP ISC that the Philippines authorities had rescued and released all the abducted crew.
With the release of the nine crew who were abducted in June, there is no more crew being held in captivity.