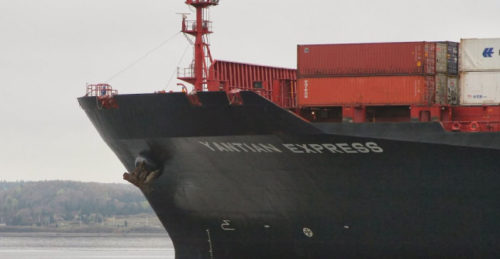 Containers in the fire-impacted areas of the containership Yantian Express have been discharged and are ready for transshipment to customers from Freeport, Bahamas, Hapag-Lloyd said in a notice to customers on Tuesday.
The container carrier said all containers in cargo holds 1 and 2 (on and under deck), which were impacted by the fire, have now been discharged and are ready for on-carriage.
However, customers with undamaged cargo elsewhere on board the vessel will have to wait some more as there is still no definitive plan for when or where their cargo may be discharged now almost three months after the fire broke out.
The fire on board the Yantian Express started in a single container January 3, 2019 as the ship was underway in the Atlantic Ocean from Suez to Halifax, Canada. With initial firefighting hampered by severe weather, the fire was able to spread to additional containers on board forcing Hapag-Lloyd to declare general average on the vessel.
The Yantian Express arrived in Freeport, Bahamas for salvage on February 4, but due to lack infrastructure, Hapag-Lloyd has been unable to discharge any undamaged containers on board the vessel, leaving customers in limbo until repairs are made and the ship can reach a destination where the discharge of undamaged containers is permitted.
Further to our Customer Info of March 18, 2019, we are pleased to report that all containers in the fire impacted areas in way of cargo holds 1 and 2 (on and under deck) have been discharged from the vessel.
All customers whose containers have been discharged and are ready for on-carriage have already been informed, and we are currently working on a solution to transship those containers, which cannot be reloaded back on the vessel.
Presently, the plan is for the balance of the undamaged cargo to remain on board the Yantian Express, which will depart Freeport once needed repairs are finalized. However, the final port of call for the vessel is still to be nominated and we will advise further on this aspect as soon as feasible.
Please be reminded that all cargo interests who have not done so already promptly contact the Average Adjuster in order to arrange for the posting of General Average and Salvage security so that their cargo can be released in a timely manner," the carrier said in a statement on Tuesday. 
Earlier this month, Hapag-Lloyd said that the salvage of containers in Freeport could take five more weeks, meaning customers with containers on board are likely to be waiting at least a few more weeks for their cargo.
Around 200 containers on board Yantian Express were declared a total loss.
Copyright Ships & Ports Ltd. Permission to use quotations from this article is granted subject to appropriate credit given to www.shipsandports.com.ng as the source.