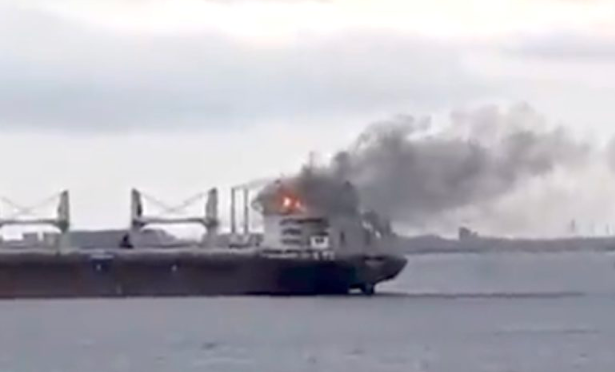 The indiscriminate shelling of merchant ships and their seafarers in ports and offshore Ukraine constitute war crimes, according to Human Rights at Sea (HRAS).
Some 1,000 seafarers on 100 international flagged vessels remain in the firing line in ports and waters of Ukraine as Russian attacks look set to intensify in the east of the country.
Since the Russian invasion started over six weeks ago merchant ships have come under fire shells and missiles, with multiple vessels hit and at least one seafarer losing their life. Last week a Dominican Republic-flagged general cargo was fired on and sank while at berth in the Port of Mariupol.
HRAS says the attacks on international merchant shipping are war crimes, in the same way as attacks on civilians ashore.
"War crimes are not only the indiscriminate attack against civilians but the indiscriminate attacks against civilian objects and civilian infrastructure. International law regulating the conduct of hostilities explicitly prohibits attacks against merchant vessels flying the flag of neutral to the war states," HRAS said in a commentary posted on its website.
It said that the merchant ships in ports were civilian in nature and made no contribution to military action. "Any attack against them, like shelling, is thus strictly prohibited." 
HRAS called on the international community to help Ukraine hold Russia accountable for war crimes against seafarers.
"In the context of this wider humanitarian catastrophe in Ukraine, we call on the international community and competent institutions to take strong action towards accountability and help the Ukraine Prosecutor, the International Criminal Court Prosecutor and any other Prosecutor and Court mandated to hold war criminals to account in the collection of evidence.  In doing so, war crimes committed against seafarers shall not be forgotten as these are civilian victims, too, with a right to obtain justice."
Last month HRAS ventured into Ukraine and the Port of Odesa to find out what the situation was like on the ground.   
Copyright Ships & Ports Ltd. Permission to use quotations from this article is granted subject to appropriate credit given to www.shipsandports.com.ng as the source.