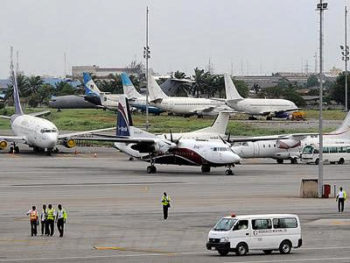 The African Union (AU) on Monday inaugurated the Single African Air Transport Market (SAATM) in the framework of the ongoing 30th AU summit in Ethiopia's Capital Addis Ababa.
President Paul Kagame of Rwanda, who is the current chair of the 55-member African bloc, and Moussa Faki Mahamat, Chairperson of the AU Commission, unveiled the plaque on the premises of the AU headquarters in Addis Ababa, marking the inauguration of the SAATM.
The SAATM is a flagship project of AU Agenda 2063, which aspires to create a single unified air transport market in Africa, the liberalization of civil aviation in Africa and as an impetus to the continent's economic integration agenda.
According to the AU, the launch of SAATM is expected to spur more opportunities to promote trade, cross-border investments in the production and service industries including tourism, resulting in the creation of an additional 300,000 direct and 2 million indirect jobs.
Eligible airlines of the 23 countries are, effective this season, entitled to conduct their business into the markets and fully operate the traffic rights provided for in the Yamoussoukro Decision.
The Yamoussoukro Decision of 1999 provides for full liberalization in terms of market access between African States, the free exercise of traffic rights, the elimination of restrictions on ownership and the full liberalization of frequencies, fares and capacities.
To date, the number of member states that have adhered to the new commitment has reached twenty-three (23): Benin, Botswana, Burkina Faso, Cabo Verde, Congo, Cote d'Ivoire, Egypt, Ethiopia, Gabon, Ghana, Guinea, Kenya, Liberia, Mali, Mozambique, Niger, Nigeria, Rwanda, Sierra Leone, South Africa, Swaziland, Togo and Zimbabwe.
Agency Report