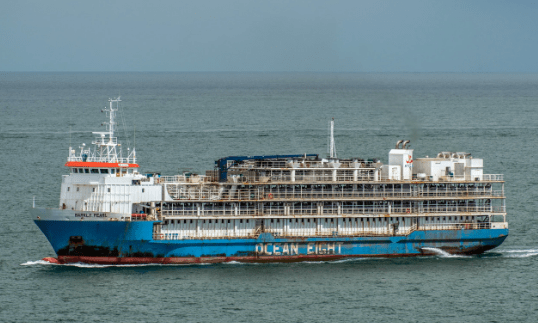 The livestock carrier Barkly Pearl has been barred from Australian waters for two years after it was found sailing in the country's waters with a hole in its hull.
The, the 1993-built Marshall Islands-registered livestock carrier was spotted on 3 November 2020 transiting through Northern Australian waters with a large hole in its hull. The Australian Maritime Safety Authority (AMSA) intervened instructing the vessel to safe harbour in Geraldton due to fears over its structural integrity, the marine environment, and seafarer safety.
According to the Equasis database the Barkly Pearl is owned by Cattle Line One in Singapore.
On 7 January this year the vessel was loaded onto a semi-submersible heavy lift carrier Falcon to safely depart Australian waters for repairs.
"The owners and operators of the Barkly Pearl were negligent in their maintenance of the vessel, put the lives of the seafarers on board at risk and posed an immediate threat to Australia's marine environment," said AMSA's general manager operations, Allan Schwartz
"As a result, AMSA has determined that the Barkly Pearl should be banned for two years."
It is the first time the Australian authorities have banned a vessel for two years.