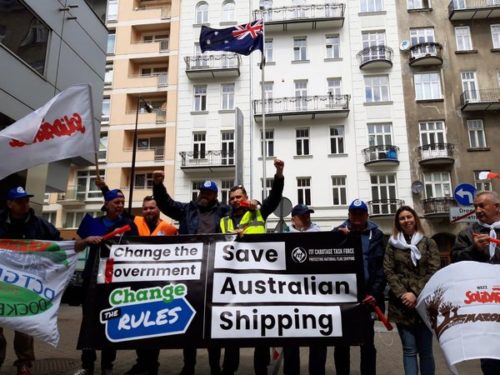 International transport workers and their unions are taking part in rallies outside embassies and consulates to support Australian seafarers and voice demands for a strong Australian shipping industry.
The International Transport Workers' Federation (ITF), which is organizing the rally, said the action was aimed at highlighting the fact that "the future of Australia's domestic shipping industry is hanging in the balance at the Australian Federal Election".
Australian seafarers are also set to hold a series of events in a number of cities and regional centers, urging the country to change the rules in order to save Australian shipping.
ITF Cabotage Task Force chair Jim Given said transport workers around the globe stand shoulder to shoulder with Aussie seafarers and will not sit idle while jobs are taken from the Australian coast.
"The current conservative government in Australia has taken an active position not to support the domestic shipping industry that has resulted in the decline of Australian flag vessels and the loss of thousands of Australian seafaring jobs," Given said.
"The opposition Labor Party have declared their support for Australian seafarers and promised to implement a coastal trade policy with an Australian strategic fleet if elected."
Maritime Union of Australia national secretary Paddy Crumlin said the election was a referendum on the future of Australia's coastal shipping industry, with the outcome to set a precedent for other nations.
"The Liberals and Nationals have driven a race to the bottom on the Australian coast, with highly-skilled Australian seafarers replaced by flag of convenience vessels registered in notorious tax havens and crewed by exploited foreign visa workers paid as little as USD2 per hour," Crumlin said.
"That's why our members have been campaigning hard in their local communities to highlight that if Australians want to see a strong domestic shipping industry, they need to change the government so we can change the rules and Save Australian Shipping.
"The fact that thousands of transport workers around the world will be joining this global day of action highlights the importance of this fight and the global significance of saving Australia's shipping industry."