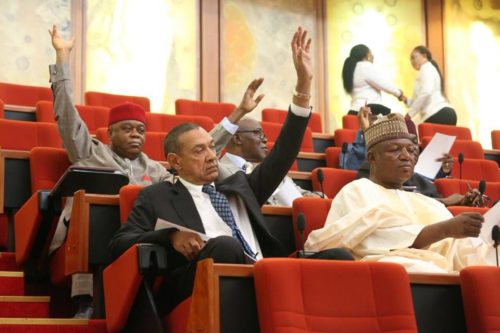 The senate has urged the federal government to provide more coaches for the Abuja-Kaduna rail line.
Members of the upper legislative chamber made the demand at plenary on Wednesday.
The resolutions followed a motion introduced by Ali Ndume representing Borno south on the need to improve the condition of the rail line.
The lawmakers lamented the low number of coaches on the rail line, saying this has resulted to hardship among passengers.
Ndume said he once stood throughout his trip on the train as a result of inadequate number of coaches.
Shehu Sani, who represents Kaduna Central, said the rail line is "the oxygen and lifeline" for some individuals and that it is an alternative for the increasing insecurity along Abuja-Kaduna road.
"This motion should be forwarded to the executive for fast implementation to disband ticket racketeering.
"Kaduna-Abuja is one of the most dangerous roads in Nigeria. Unless the federal government finds a way to curb insecurity, the train will continue to be a safe haven for both the rich and poor."
Ibn Na'Allah from Kebbi South also agreed that increasing the number of coaches will ease the stress on Nigerians traveling by rail.
For James Manager who represents Delta south, the train station will serve as succour to both the rich and the poor.
"In fact, we are oppressing the poor by using the train. This is why you will see someone like Senator Ali Ndume abandon the Abuja-Kaduna road for the train," he said.
Gbenga Ashafa from Lagos East, who is also Chairman of the Senate Committee on Transport, said the senate had done its best regarding the rail line.
"Only 12 coaches are ready out of 64 that has been paid for. However, the national assembly has played its own role. Our main problem is funding. If we are able to fund, we will have more locomotives," he said.
The lawmakers also urged the Nigerian Railway Corporation to carry out a study on the rail structure to determine if the clamour for a price reduction from N1500 to N600 is realistic.
They also called for an increase on the frequency of trips on the rail line.