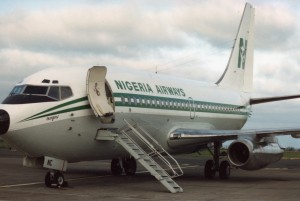 The major labour unions in the aviation sector have suspended plans to shut down the sector over the delay by the Federal Government to pay the N45 billion entitlements of ex-workers of the defunct Nigerian Airways.
General Secretary, National Union of Air Transport Employees (NUATE), Olayinka Abioye, confirmed the development to journalists on Friday in Lagos.
The National Union of Air Transport Employees (NUATE), National Association of Aircraft Pilots and Engineers (NAAPE) and the Air Transport Senior Staff Services Association of Nigeria (ATSSSAN) had on March 19 given the government a 14-day ultimatum.
The unions had threatened to go on strike if the government fails to pay the not fewer than 6,000 workers, the N45 billion approved for them by the Federal Executive Council over ten months ago.
However, Abioye told said that the unions decided to suspend the strike after a recent meeting with the Minister of State for Aviation, Sen. Hadi Sirika.
He said, "Before the expiration of the ultimatum, the minister invited aviation stakeholders to a meeting in Abuja, to unveil the transaction advisers for the concession of airports and national carrier.
"At the meeting, we raised the issue of the outstanding payment of N45 billion to the former Nigerian Airways staffers and he responded by first of all pleading with the unions to sheath their swords.
"He asked us to give him two weeks to sort out the matter and that the N45 billion has already been secured, but it has to pass through the National Assembly before payment can be implemented.
"The House of Representatives have already done their oversight and the Senate will follow suit after resumption form Easter break and payment will be effected."
Abioye said based on the assurance given by the minister, the unions met and decided to suspend the proposed industrial action.
"So, we are optimistic that the money will be paid soon so that we can put this issue behind us and focus on other key ways to improve the sector," he added.