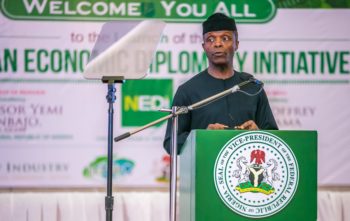 Vice President Yemi Osinbajo, on Thursday, launched the Economic Diplomacy Initiative (NEDI), an initiative of the Foreign Affairs Ministry.
Osinbajo noted that Nigeria was committed to all Pan African and other treaties that had made it stand out as a country, with a view to integrating Africa.
He said, "We are also committed to ensuring adequate consultation is made, especially with the private sector, before we make further commitment to some of the international treaties that are important to us."
Osinbajo added that Nigeria was also committed to strengthening economic ties at the official level on issues like technical cooperation, air services, double taxation, investment promotion and protection and citizens' rights among others.
He said that the trade and investment ties between countries were driven mainly by their private sector actors. In the case of Nigeria, he said that the private sector was particularly important because it accounted for well over 90 percent of our GDP.
"We are fully aware that building a competitive and vibrant national economy of our dream relies on enabling the innovation and dynamism of our private sector operators to flourish.
"Given that private sector actors and indeed talented individuals that would drive trade and investment are numerous, it follows that they may not have access or the means to obtain the information they need about the opportunities that abound especially abroad.
"So the vision of the minister to use the NEDI to bridge the vital gap is a welcome development indeed," Osinbajo said.
Foreign Affairs Minister, Geoffrey Onyeama, said NEDI was a platform and mechanism for matching and connecting businesses.
According to him, NEDI seeks to surmount all business hurdles and barriers by leveraging on the ministry's presence in 100 countries to match Nigerian and foreign businesses.
"This we do through an Internet portal where any Nigerian business after satisfying credibility check can upload their data onto a website.
"And with the help of dedicated staff and the information would be available to Nigerian staff in missions in the 100 countries," Onyeama said.
According to him, in addition to NEDI, the ministry also created a window for diaspora brain gain, adding that there are millions of Nigeria, who would want to come home if they can find a job commensurate to their skills.
"And, conversely we know that there are Nigerian institutions and businesses that are looking for skills not available in the country. We have therefore added a window where Nigerians in diaspora can upload their profile and the ministry will help to match them to needs of businesses and institutions in Nigeria.
"What NEDI added is simple credibility and a secured environment to grow the Nigerian economy," Onyeama said.
He said that the ministry would soon launch an internet-based mechanism for validating document with payment online to check corrupt practices.