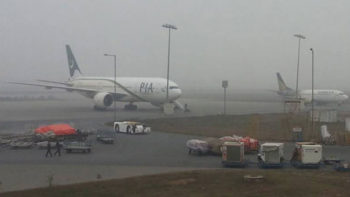 The prevailing hazy weather over major parts of the country has continued to disrupt flight operations, especially in the southern part of the country.
The disruption has led to flight cancellations by many airlines.
The flight cancellations in many airports across the country began on Thursday.
An Enugu-bound Ethiopian flight was reportedly forced to return to Addis Ababa on Saturday at the point of landing because of bad weather.
At the Nnamdi Azikiwe International Airport, Abuja on Monday, only flights from Lagos and northern states were being announced for arrival and departure.
The Station Manager of Azman Air at the Abuja airport, Abdulahi Saroke, said the airline cancelled more than 10 northbound flights on Thursday and Friday.
He attributed the cancellation to intense harmattan haze in the region.
Saroke said that over five flights from Lagos to Kano, Kaduna, Maiduguri, Yola and Kebbi were cancelled as well as two flights from Kano.
He said that though the weather had improved in the northern region, it had worsened in the southern part.
According to him, as at Monday morning, the flights from Kano and Maiduguri were processed but flights to Enugu and Benin could not be processed because bad weather has shifted to that region.
"As I speak with you, no flight has taken off to Enugu and Benin and no flight has also come from those airports today.
"The situation has been like that since Saturday but the northern region has improved.''
General Manager, Corporate Affairs, Federal Airports Authority of Nigeria (FAAN), Henrietta Yakubu, confirmed that the bad weather had affected many flights across the country.
Yakubu said that the weather was a natural phenomenon that was beyond human control.
She added that local fight was yet to be recorded as at 2 p.m.
The Nigerian Meteorological Agency (NiMet), has predicted dust and hazy weather and poor visibility of two to five kilometres and less than 1,000 metres over the entire country in the last few weeks.  
Copyright Ships & Ports Ltd. Permission to use quotations from this article is granted subject to appropriate credit given to www.shipsandports.com.ng as the source.