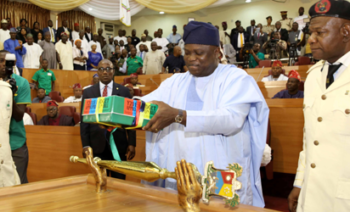 Governor Akinwunmi Ambode of Lagos State on Monday presented the 2018 budget proposal of N1.046 trillion to the state House of Assembly. The budget, tagged "Budget of Progress and Development" represents a 28.67 per cent increase over the 2017 budget of N812 billion.
The 2018 budget has capital expenditure of N699 billion and recurrent expenditure of N347 billion. The capital to recurrent ratio of the budget stood at 67:33.
"The budget will be used to consolidate on infrastructure, education, transportation/traffic management, security and health, with an added emphasis on mandatory capacity building for civil servants, all teachers in public secondary/primary schools, officers in the health service sector and women and youth empowerment," Ambode said.
He said that the estimate of total revenue for year 2018 was N897.423 billion, of which N720.123 billion would be generated internally.
According to him, a total of N148.699 billion will be sourced through deficit financing within the state's medium term expenditure framework.
He said that in 2018, economic affairs would continue to dominate and get the largest allocation of the budget, adding that there was a lot to be achieved in the coming year.
According to Ambode, as at November 2017, the 11-month period revenue performed at N448.396 billion at 76 per cent compared to full year's performances in 2016 of N449.609 billion at 83 per cent and N399.382 billion at 82 per cent for 2015.
He said, "Suffice it to say that the overall budget performance stood at 74 per cent as at November 2017 and it is projected to close at 80 per cent by the end of the year 2017.
"The state average contribution to the National Gross Domestic Product (GDP) from 2015-2017 remains strong at about 30 per cent," he said.
Giving highlights of the sectoral allocation for 2018 budget estimate, Ambode said that General Public Services got an allocation of N171.623 billion while Public Order and Safety got N46.612 billion. He said that N473.866 billion was allocated to Economic Affairs while Environmental Protection got N54.582 billion.
Also, N59.904 billion and N92.676 billion were allocated to Housing and Community Amenities and Health respectively. Recreation, Culture and Religion got an allocation of N12.511 billion, while Education and Social Protection got allocations of N126.302billion and N8.042 billion respectively.
"I want to sincerely thank all Lagosians, our leaders, statesmen and citizens for their superlative support thus far, most especially our tax payers throughout Year 2017.
"It is our resolve in 2018 to strive and complete all ongoing projects in order to meet their specified completion period and embark on new strategic projects.
"We intend to improve on our IGR in the face of the dwindling accruable revenue allocation from the Federal Government, sustain our vision on wealth creation and poverty alleviation.
"It is our desire to maintain the tempo of continuous construction, rehabilitation, upgrading and maintenance of network of roads throughout the length and breadth of the state, including those within the boundaries of Lagos and Ogun States.
"With the favourable weather conditions prevailing now, this year's local government roads, totaling 181, will be commenced as contractors will be mobilised immediately.
"We have made provisions for continuous gridlock resolution, junction improvement, construction of more laybys and advancement of signalisation that will improve traffic congestion, especially along the Lekki-Epe corridor.
"Other key projects that we have provided for include, the Agege Pen Cinema flyover, alternative routes through Oke-Ira in Eti-Osa to Epe-Lekki expressway, among others." 
He said that the government would consolidate on the Lagos bus reform project with the introduction of high and medium capacity buses, construction and completion of bus depots at Oshodi, Anthony, Yaba and many many more.
In the area of job creation, Ambode said an ICT Focus Incubator Centre would be constructed in Yaba, while the development of Imota and Igbonla Light Industrial Park, as well as the provision of additional small scale industrial estate at Shala, would commence.
"The State Employment Trust Fund will disburse more funds to Lagosians to support business and stimulate the economy.
"From feedback of Lagosians, more emphasis will be placed on the successes already recorded by the Employment Trust Fund to get more of our unemployed youths into gainful employment.
"The process leading to the movement of Mile 12 market to Imota which commenced in 2016 has reached an advanced stage and we will complete the infrastructure in the new location in good time to pave way for relocation next year.
"We will vigorously pursue our planned direct intervention in the power value chain toward generating 3,000MW Embedded Power Programme; a 3-year plan to achieving 24/7 power supply for the state.
"The challenge of inadequate power supply must be resolved for our economy to perform optimally and we believe the provision of this essential utility can no longer be left in the hands of the Federal Government alone to solve. We must complement each other for the overall development of our nation.
"We will continue to rekindle our efforts in the area of Tourism, Sports, Arts and Culture by ensuring that our objective of making the state the tourism, sporting and entertainment hub of our nation is conscientiously pursued.
"We are mindful of the housing needs of the citizens; that is why we are poised on completing all on-going housing projects, especially those at Gbagada, Igbogbo, Iponri, Igando, Omole Phase I, Sangotedo and Ajara-Badagry for delivery to our subscribers under the Rent-to-Own policy of this administration.
"This budget has something for everyone, young and old, man or woman, including the physically challenged in line with our vision of making Lagos work for all.
"We shall also make massive investments in the area of Healthcare, Health Insurance, Education, Food Security and General Public Service," Ambode said.
In his address, Speaker of the Assembly, Mudashiru Obasa, commended Ambode for infrastructural and economic development.
He said, "This budget proposal marks another basic point of reference in the progressing radical transformation and change that we have been witnessing in Lagos State since the inception of this administration." Today, with the remarkable support of this House, we are all witnesses to the jobs done so far as regards infrastructural renewal and wealth creation.
"The completion and commissioning of Abule-Egba and Ajah state-of-the-art flyovers, as well as the ongoing Pen Cinema flyover among other completed and ongoing infrastructural projects numerous to mention, are pointers to the success story of Mr. Akinwumi Ambode." 
According to him, the feats could not have been realised without the legislative concurrence and support of the House of Assembly.
"With the feat achieved by Gov. Ambode merely two years in office, there is no doubting the responsiveness and readiness of this noble House to continue to support the state through passage of people-oriented and development-focused legislation.
"We are poised to cooperate with the Executive to develop an economy that is sustainable, smart and knowledge-based, and whose commitment to law and order is unequivocal.
"There is no gainsaying the fact that the Y2018 Budget is aimed at continuous infrastructural development to bridge infrastructural gap; transport, security and environmental reforms.
"The budget is also aimed at capacity building for all civil and public servants, teachers and health workers; completion of housing estates; commencement of health insurance scheme among others.
"However, this House will not rest on its oars in scrutinizing this Budget to deliver on its promises in meeting the aspirations of the people.
"As usual, we are duty bound to painstakingly look at the nitty-gritty of the budget for the purpose of transforming same for the benefit of all Lagosians," he said.
Obasa assured that the House, through effective oversight, would ensure that the Year 2018 budget delivers on its promises to stimulate the economy of the state by focusing on infrastructure development.
The speaker, who commended tax-payers, urged those who had been evading tax to adjust.  
Copyright Ships & Ports Ltd. Permission to use quotations from this article is granted subject to appropriate credit given to www.shipsandports.com.ng as the source.