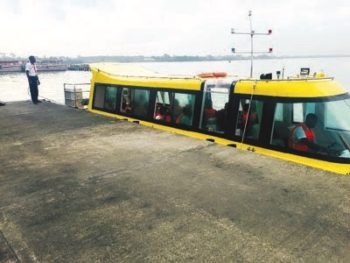 The Lagos State Government has begun pilot operations at its Ferry Terminal at Ipakodo, Ikorodu in line with its commitment to facilitate an effective and efficient integrated transportation system.
The Ikorodu terminal has been upgraded to a world-class, robust and accessible hub for the water transportation and other ancillary services.
This is to engender convenience and safety water transportation experience for both the commuters and operators in the state.
The terminal, when fully operational, will primarily provide an umbrella shelter for ferry logistics with ample and safe space for operators to load and offload passengers, goods and services. They will provide for the convenience of operators as well as the commuters, safety considerations like water ambulances and emergency rescue and water maintenance in collaboration with Lagos State Waterways Authority (LASWA). The facilities will also provide for recreation and shopping, banking, foodcourt, parking, customer services, security, and well-maintained conveniences.
The pilot operations is essentially for boat and ferry operators and their passengers to have a feel of the facility ahead of a full go-live in April.
Ikorodu Terminal Corporate Services Director, Amina Agboola said, "Our role is to work with the operators to ensure that this facility is maximised to help develop and grow water transportation in Lagos. We are very keen to provide efficient, safe and world class water transport solutions in Nigeria.
"Indeed, the safety of operators, commuters, our team and visitors, is a strategic priority for us. We have put in place intelligent control measures which will reduce or eliminate hazards within the terminal. These measures will also take care of delays, eliminate rush, human errors, improve connectivity and provide a better customer experience. Our Water ambulance service and rescue team are prepared to respond within the shortest time possible to any emergency situation."
Chief Executive Officer Halo-Waters (Nigeria), Operators of Commercial Water Transport ( Lagos WaXi), Andrew Lana said, "It's a milestone in the journey of putting in place efficient inter-modal human and goods transportation system and specifically in-land water ways transportation by the Lagos State Government through the provision of infrastructure and enabling environment that engenders continuous private sector investments in the sector. The users of the terminal shall experience world class customer service, given the facilities and services promised by the operators of the terminal and commercial boats.
"As an operator, we are excited that finally, outbound and inbound passengers can experience convenient, safe and reliable water transport service in Ikorodu."