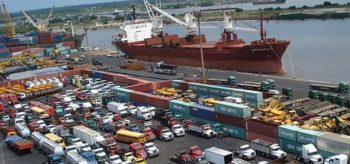 Any country's ports system that is properly and efficiently run is a veritable area for government revenues. Those who know this also know that it takes more than lip service to make this happen.
But it is also true that those who wish to earn the desired revenues from the management of their ports system must put in hard work, through policies and actions, to be able to bring this about.
Ships & Ports acknowledges that the ports system in Nigeria is bedevilled by myriad of systemic and structural problems, which have contributed to the failure by the Nigerian Ports Authority (NPA) to live up to its expectation as a major revenue arm of the Federation.
For many years, the NPA was run as if it was a socialist soup kitchen where everybody came to be fed and take what was communally theirs. Even though it was meant to be a major revenue earner, it ended up, for a long time, being the problem child of the Federation, losing money through monumental inefficiency and corruption.
It is the "problem child" character of the NPA and, indeed, the entire ports administration system that has led to a number of reforms in the past, many of them half-hearted. Ships & Ports notes that the emergence of the President Muhammadu Buhari government last year, and the sudden discovery that Nigeria no longer has the luxury once provided by abundant oil revenues, created a new impetus to wake up the ghosts of institutions that ought to be contributing to the Federation accounts, such as that NPA.
The appointment of Hajia Hadiza Bala Usman as managing director of the NPA in July and the constitution of her management team thereafter, we also note, appears primed for this purpose. She has left no one in doubt that she knows and recognises that the NPA should be a major government revenue generator. At a time like this when Nigeria appears to be on a long stretch of deficit budgeting, she is right to be eager to pull in the revenues.
However, Ships & Ports believes that there is a particular mindset that has bedevilled the NPA for many decades. It is the mindset that made its past management to feel removed from the culture of seeing their organisation as a business enterprise. We feel that this was the result of the cabalistic tendencies of the NPA that made past managements to feel bigger than the different supervisory chains of government that should have held it accountable for beefing up the Federation revenue. We think this attitude should remain a thing of the past.
Ships & Ports believes that the current stretch on government revenues offers a new vista to the Bala Usman-led team to confront past management approaches by bringing to bear on the NPA sound principles of business that can help ramp up revenues. In this connection, therefore, we call on her to recognise that even though the NPA is an agency of government, it is an agency that is a business, offering services, the quality of which will determine how much success it is able to achieve.
As a business operating in the 21st Century, it is important that it offers 21st Century services and that the management recognises that in business, the best principle that you can never go wrong on is being competitive. The NPA operates in a global village where it can easily be benchmarked against what obtains in other port systems, including the much-envied Autonomous Port of Cotonou, Benin Republic. The principle of global best practices helps to determine how much businesses are loved and patronized or hated and rejected. The NPA must be seen to be enthroning this across all levels of its operations, including in its dealings with concessionaires and other ports users.
Ships & Ports also calls on Hajia Usman to not follow the failed approach of people in politics administrating at state levels, who have no hunger for competition. As she leads a team with responsibility for zonal ports administration, we advocate the introduction of a sense of competition, one that is driven by a hunger to deliver to Nigeria a globally competitive ports system.
We enjoin her to always speak to her desire to have a competitive Nigerian Ports Authority, in the same way that she is trying to deliver her mandate on revenues.
Copyright Ships & Ports Ltd. Permission to use quotations from this article is granted subject to appropriate credit given to www.shipsandports.com.ng as the source.