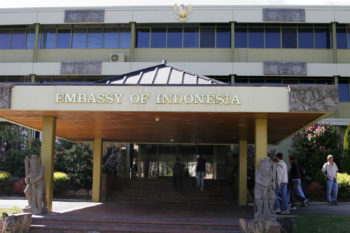 Nigeria's Ambassador to Indonesia, Mr. Hakeem Balogun, has taken on responsibility in Jakarta after the presentation of his Letters of Credence to Indonesian President Joko Widodo.
A statement by the Nigerian Embassy in Indonesia said that Balogun applauded the existing cordial bilateral relations between Nigeria and Indonesia.
The new ambassador expressed Nigeria's desire to deepen its economic ties with Indonesia in the areas of trade and investment, particularly in agriculture, energy, solid minerals, oil and gas, manufacturing, tourism and infrastructure development.
He also conveyed President Muhammadu Buhari's fraternal goodwill and good wishes to Widodo.
Balogun told the Indonesian president that he would convey his request on his invitation to Buhari to visit Indonesia and his request for direct purchase of Nigeria's crude oil.
The envoy stressed the need for continued efforts to enhance the existing economic ties between the two countries.
The ambassador said that Nigeria was the surest door through which Indonesia could enter the African market.
He said that the current volume of trade between Nigeria and Indonesia stood at around 1.7 billion dollars in favour of Indonesia.
Balogun assured that he would interface with the relevant Indonesian investors to take advantage of the favourable investment climate in Nigeria as the largest market in Africa.
He said that a proposed Nigeria-Indonesia Joint Commission would be an opportunity for both countries to further boost the existing cordial relations.
In his response, the Indonesian president noted the need for Nigeria and Indonesia to strengthen the existing cordial bilateral relations between the two countries.