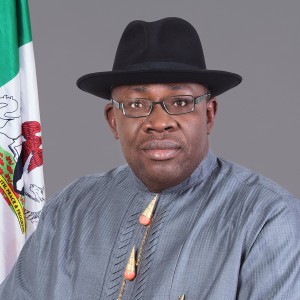 Bayelsa State Governor, Seriake Dickson, has urged President Muhammadu Buhari, to remove obstacles delaying commencement of work on the Brass Liquified Natural Gas (LNG) and refinery projects in the state.
Dickson who made the call while speaking at a stakeholder's meeting of the People's Democratic Party (PDP) in Yenagoa, stated that the lack of federal projects in Bayelsa was unacceptable.
In a statement by his Chief Press Secretary, Francis Ottah-Agbo, on Wednesday, Dickson said the two projects would give Ijaw people a sense of belonging and expand the revenue base of the country.
The governor lamented the backwardness of the Ijaw in terms of development and urged the Federal Government and multinational corporations to partner the state government to tackle the state's infrastructural deficit.
Dickson stressed his administration was working hard with lean resources to fund development projects such as construction of major roads and bridges, schools and health institutions.
He said, "I play politics of development. My team and I, came in with anger to develop this place and by the grace of God, we have achieved that to some enviable level with the able support you have all been giving as stakeholders of our great party. We are determined to do more before we leave office for another PDP government.
"As I speak with you, work is ongoing on in the Sagbama-Ekeremor Road and we are sure of driving to Ekeremor Town by December this year. In the next few weeks, I will invite you and we all drive to Aguobiri in Southern Ijaw. Also, clearing of the Yenagoa-Ayama,Ogbia road will start in the next two weeks.
"All these are capital intensive projects and that is why we are calling on the Federal Government and other development partners to come to our aid. In one of my meetings with the President, I told him to bring back the Brass LNG and the Refinery Projects and also convene a stakeholders meeting to talk about the Nembe-Brass Road."
Dickson further urged PDP faithful with ambitions to contest the forthcoming state and National Assembly elections not to heat up the polity but maintain the discipline and decorum existing in the state chapter of the party.