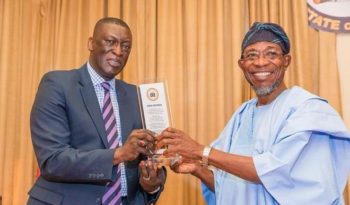 The Country Director, African Development Bank (AfDB), Ebrima Faal has offered the bank's support to Osun State Governor, Rauf Aregbesola for the completion of some of his projects including the state airport project.
This was made known during a meeting between top officials of AfDB with Governor Aregbesola at the Government House in Osogbo as part of a one-day visit to Osun on an exploratory mission to support the state's developmental agenda.
Faal, who led the bank's delegation, inspected facilities at the Technical College in Osogbo and the waterworks in Ede.
Faal said the visit gave his team the opportunity to see the developmental efforts of the current administration in the state and to determine the subsequent steps to be taken to support the State.
At the Osogbo Technical College, the AfDB delegation was taken to various departs and workshops where modern equipment for carpentry, shoemaking and other machines were displayed.
Technical engineers at the Ede Waterworks conducted the AfDB team round the facilities including the water dam and the water treatment equipment.
The AfDB delegation was accompanied by the Senior Technical Adviser to Osun State Governor on Development Partners and International Relations, Dr Michael Olugbile as well as members of the State Executive Council including the Commissioner for Education, Wasiu Omotunde Young, the Commissioner for Commerce, Industries and Cooperatives, Honourable Ismail Adekunle Jayeoba-Alagbada and the Commissioner for Economic Planning and Budget, Dr Dauda Olalekan Yinusa.
Olugbile while acknowledging the ongoing support of AfDB for the Rural Water Supply and Sanitation (RWSS) project, said the visit of the AfDB delegation was part of efforts to attracting more donor assistance to the State to support the developmental agenda of Governor Rauf Aregbesola-led administration while also laying solid foundation for the incoming administration.
Olugbile said the AfDB would support Osun state government on the upgrading and completion of the nine Technical Colleges in the state. He added that the AfDB would also support Osun on Urban water schemes and to complete the Osun airport christened MKO Abiola Airport.
In his response, Aregbesola said "I'm in a hurry to achieve this. Please, I cannot be patient to see this happening. Let us move fast to achieve this because my tenure will soon end as governor of this state."