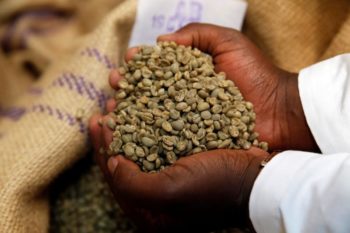 A Kenyan lawmaker, Moses Kuria, has said he will take a proposed law to parliament that seeks to ban exports of unprocessed coffee to boost farmers' earnings.
The East African nation is a small producer of the crop, accounting for about 1 percent of annual global output, but its top quality Arabica beans are sought after by global roasters who use them to blend with other varieties.
Raw coffee beans, which are Kenya's fifth-biggest source of hard currency, are usually sold at a weekly auction in Nairobi or directly to buyers abroad who then roast, package and sell them at a hefty premium.
Coffee exports earned $214 million in the year to March.
Kuria, of the ruling Jubilee party, said some countries are importing raw Kenyan coffee, processing it and re-exporting it back to Kenya for sale at the expense of farmers who "do not reap maximum benefits from their produce".
He said his new bill will prohibit the export of raw coffee in any form.
"I am introducing a bill in the national assembly to provide that coffee be exported only in processed form having been roasted, milled, packed and branded, clearly labelled with a "Made in Kenya" inscription," Kuria said in a letter to the speaker of parliament seen by Reuters on Wednesday.
There was no immediate comment from the ministry of agriculture or coffee exporters.
Kenya's coffee output peaked at 129,000 tonnes in 1988/89 but has since dropped steadily due to poor management and global price swings. Farmers have switched crops or sold their land.
Agency Report