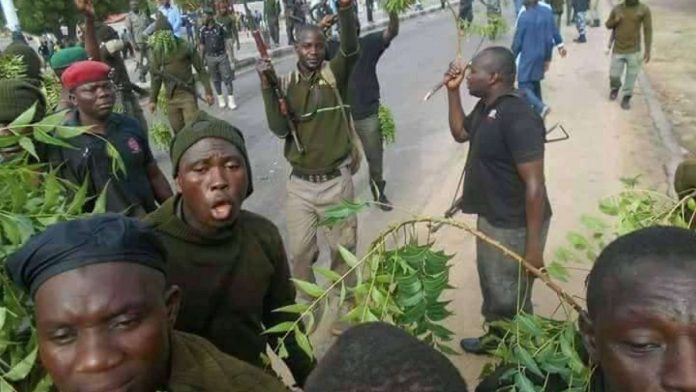 By Ace Omozuwa
The protest of policemen in Maiduguri, Borno State, on Monday last week, over non-payment of their six months allowance is a stinging indictment of our national commitment to security. It tellingly reflects how we dishonor and demean the labor of everyday heroes. It also shows how we pay false tributes to those who daily endanger their lives to make Nigeria safer and stronger, so that economic, social, cultural and political activities can flourish.  Furthermore, the protest reveals our lack of humanity and moral callousness.
There is a clash of narratives about what actually transpired. The force spokesman, JimohMoshood, has emphatically stated that the policemen did not protest. According to him, "The force wish to categorically state that it is not correct that police personnel protested in Maiduguri today July 2." However, media reports and video footage of the events of the day convincingly suggest otherwise.  Well, the essence of this piece is not to judge which of the narrative better reflects reality or which seeks to downgrade our collective percipient to truth.  It simply seeks to highlight the dangers of police protest. More importantly, it aims at accentuating why all men and women of conscience and reason must do whatever they can to alleviate the perplexities and perils of our security personnel.
Due to many reasons, police protest is now an emerging norm in Nigeria. As recent as 2017, it was reported that over 2,000 policemen from about eight police commands, namely; Kaduna, Kebbi, Gombe, Nasarawa, Ekiti, Bayelsa, Imo and Ogun protested non-payment of their salaries and allowances. Recall, that on February 1, 2002, the rank and file of Nigeria Police went on strike. The policemen were protesting against poor service conditions, unpaid arrears, and career stagnation. The strike hugely embarrassed the much-avowed ethical disposition and commitment of the Obasanjo-led administration to internal security.  Hence, five weeks after the strike, former president OlusegunObasanjo, convened an emergency meeting of the Police Council, which approved the dismissal of the then Inspector General of Police, Mr.  Musiliu Smith.
It is a breach of national security to trivialize the wellbeing and welfare of our gallant security operatives. The all-important law enforcement function of the police cannot be effectively discharged, if men and officers of the Nigerian Police live in slave-like socioeconomic conditions. Nigeria is bounded to experience a preponderate reign of jungle justice, if we allow abject poverty to plunge security personnel to the hovel of pointless living. Our heroic strive to build a humane and prosperous society will be futile, if we allow law enforcement agents to flounder in subhuman conditions.
As the elite class in Nigeria is increasingly becoming self-focused and indifferent to the welfare of the working class, inhumane practices are bourgeoning   in virtually every facet of our nation state and society. The greedy elite have not only reduced security personnel to bag-carriers, political tugs, errand boys, etc., they are methodologically degrading them to scavengers that feast on loathsome leftovers or "morsels that fall from the master's table." We must not sugarcoat this ugly fact; it is a society that chronically lacks humanity and compassion that fails to secure the welfare of her security personnel, and inadvertently makes them victims of savage elite.
It is a misnomer for a nation that aspires to greatness to push the material prosperity of security operatives to the backburner. Mahatma Gandhi said; "The greatness of a nation and its moral progress can be judged by the way its animals are treated."  If there is any modicum of truth in Gandhi's claim, then, it is absolutely right to paraphrase him thus:  A more superior index of the greatness of a nation and its moral progress is the way she treats her everyday heroes.  Using this evaluative criterion, it is evident that Nigeria is not yet great and has not made significant moral progress.
From a moral perspective, it is not right to ask a hungry man to control crime. The criminal failure to carter for the wellbeing and welfare of security personnel is an indirect way of licensing them to perpetuate crime under the guise of crime control. As it is a needless test of virtue to give the key of a bakery to a downheartedly hungry man, so it is to arm an angrily hungry man to protect lives and property. Only the protected can protect. As long as our security personnel and their families are vulnerable to the ravages of poverty, everybody and everything will remain insecure and unsafe.
The thoughtless treatment meted to the policemen posted to Maiduguri, which eventually led to their protest shows we are overwhelmed with compassion fatigue. The loss of sympathy for the suffering of others is a recipe for social anomy. According to one of the protesting policemen who spoke on condition of anonymity to the press, "About 10, 000 mobile policemen were deployed to the state from different commands but we have not received our allowances in the past six months." Furthermore, he said, "We have been facing hardships as a result of the non-payment of the allowances. We have made several complaints but nobody listened to us."  Extreme measures are inevitable when grievances are appropriately expressed and nothing is done by those in authority.
These gallant policemen that were posted to Borno state in January to enforce law and order in one of the strongholds of Boko Haram deserve better treatment from the inefficient, trouble-causing bureaucratic mechanisms of the Nigerian state.
Before I am branded an uncritical police apologist, let me state the fact that I am aware that the men and officers of Nigeria Police are far from attaining an idealized state. Every day we see manifestations of endemic wanton brutality, corruption, and sloth in their operations.  We know that police-community relations are toxic. We also know that some policemen readily act like political hooligans in critical democratic moments, for example, during elections.
In fact, Nigeria Police has not done very well to present itself as your friend, friend of the people, friend of justice, friend of democracy, and lover of equity and fairness.  The faulty is not entirely theirs. This is truer against the backdrop that political, sociological, cultural, and historical factors profoundly influence the character and functions of police in society.  So, we may say Nigerian Police is a mirror of the Nigerian state and society. If the Nigeria Police is corrupt, it is because corruption is pervasive in Nigeria. If we say the police force is inefficient, it is because inefficiency is a synonym of statecraft in Nigeria, indeed, most of Africa.  In other words, a dysfunctional society or a weak nation state cannot create an ideal, compassionate, community-friendly police.
Many Nigerians started appreciating the indispensability of policemen after their 2002 strike. It became clear to many why the protection of lives and property during peacetime should not be assigned to the military.  Only the police force is well equipped to enforce the law, control crime, and reduce civil disorder.
The urgent task of the moment is for us to consider how to upgrade police practice, improve the process of recruitment, create better environment for training of police, and develop alternative and sustainable sources of funding for them. Towards this end, it is important to mention amongst many other public-spirited Nigerians, the efforts of Dangote geared at creating world-class police force in Nigeria. Lately, he gave out posh cars to different police commands.
Corporate Nigeria should take a cue from Dangote and be alive to its social responsibility.  If I am asked; why is oddity assuming the status of social norm as Nigeria is traumatized by violent conflicts and security challenges? My answer will be twofold. First, it is simply because, the business world and captains of industry prefer hiring the services of private security outfits to contributing to the betterment of Nigeria Police. Second, the political class has not helped as well; they prefer empowering ethnic militia to strengthening the police. Yet, they mount soapboxes to criticize the ineptitude of government, and politicize security issues in an attempt to cheaply win popular support.
To build a safe and strong nation we must stop playing politics with security. We must demonstrate unwavering commitment to the welfare of security operatives and that of their family. We must start incentivizing patriotic acts of heroism, which our security personnel regularly display.
Copyright Ships & Ports Ltd. Permission to use quotations from this article is granted subject to appropriate credit given to www.shipsandports.com.ng as the source.