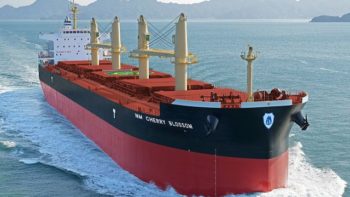 A sealed bid auction to buy 55,000 tonnes of phosphate onboard a ship seized by South African authorities last year, opened on Monday, the auctioneers said.
The phosphate shipment supposedly en route to New Zealand, was said to have been taken illegally from the Western Sahara territory. The Polisario Front, the political organisation representing Western Sahara, had gone to court to have the cargo which was aboard a Marshall Island-flagged ship, seized.
The ship, NM Cherry Blossom, has been in Port Elizabeth since May after a S'African court ruled that the vessel should remain until the case goes to trial or security is posted.
The High Court in Port Elizabeth last month granted the sale order, which provides for the auction to run 30 calendar days from 19 March and for an independent analysis of the 55,000-tonne cargo, which includes 45,000 tonnes of high-grade phosphate.
"An updated laboratory analysis of the samples will be available this week to determine physical and chemical properties of the cargo," Clear Asset Auctioneers' website said.
The starting bid for the cargo is said to be $1 million.
The court case was a test of Polisario's new legal tactic in its long-running conflict with Morocco over Western Sahara, a disputed territory where the two sides fought a war until a 1991 ceasefire and where U.N. talks have failed to reach an accord.
A Panama court last year dismissed a similar case by the Polisario to block a phosphate cargo in Panama, saying there was no evidence it belonged to the group and that the court was not the venue to judge political matters.
OCP, the world's leading phosphate exporter, said at the time the South African court's decision contradicted international law and that Polisario's complaint was "a political matter disguised as a legal claim".
Ahead of Monday's auction, a Polisario executive member said they would be "happy with any result" from the sale.
"We hope there will be significant interest now that the title is clear and is backed by the high court ruling," said Kamal Fadel, an executive member of the self-declared Sahrawi Arab Democratic Republic (SADR) Petroleum and Mining Authority.
He told Reuters any monies raised would be transferred to SADR authorities and could be used to pursue similar cases.
"This is just the beginning and we plan to target anyone that deals illegally with our resources," Fadel said.
Agency Report