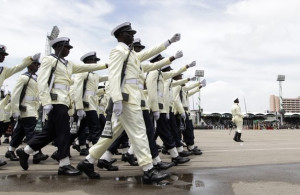 The inhabitants of Katampe village, Kubwa in Abuja, have decried the alleged constant harassment of people living around Awodo Street by Naval personnel, deployed to provide security at the Navy quarters in the area.
The allegation was made after one James Uzondu, a resident of the area, was brutalised on Friday, March 9, while returning from work by a Naval personnel on guard.
Uzondu, narrating his ordeal, said he never expected to fall victim of such harassment.
He said: "What happened that Friday was unexplainable because the motorcyclist carrying me was stopped and I was ordered to come down.
"The next thing that happened was that the Naval personnel ordered the `Okada rider' to park his bike beside the Navy gate, and ordered me to walk away.
"I agreed to walk away, but pleaded with him to allow the motorcyclist to go with his motorbike, but he threatened to shoot me if I disobey his order.
"Before I could take a decision on whether to abandon the motorcyclist to his fate, the Naval man started flogging me with an armoured cable.
"As he flogged me, I defended myself with my laptop bag and demanded to know what offence I committed. He warned that I would be shot if I didn't leave; I wasted no time in leaving the scene and abandoned the cyclist," Uzondu said.
Some of the residents said that Uzondu's case was one of several cases recorded in the area.
A resident of the area, who only gave her name as Martha, said the Naval personnel behaved as if they were in their barracks.
She said: "They want us to live a regimented life like them, and this is not possible. We go out and come back in the night, only to be molested before entering our houses.
"They have their own entrance and I wonder why they should be blocking the entire street, instead of manning their gate," she said.
Another resident, who gave her name as Madam Uche, said her encounter with them got to the Naval headquarters, but that her husband pleaded with her to withdraw the matter.
She said that the harassment usually starts by 6 p.m., but that in her case, it was not up to 6 p.m. when she was molested.
"In my case, the motorcyclist carrying me was stopped and told to jump into a gutter in front of the Navy quarters.
"Immediately, I inquired to know what offence the `Okada rider' committed, the Naval personnel started whipping me with 'koboko'.
"I reported the matter to their superiors in the quarters and they told him to apologise. He refused, and I was advised to petition Naval headquarters.
"I was ready to take the matter to Human Rights Commission and other government agencies, where I will get justice, but along the line, my husband advised that I should forget the matter, and I did," she said.
In his reaction, the Director of Information, Nigerian Navy, Commodore Ayo Olugbode, said in an interview that the Navy does not tolerate any form of abuse of civilians.
He said: "We have strict disciplinary measures, especially when you inflict injury on anybody; such personnel will be dealt with accordingly after investigation.
"We all have sisters, brothers, mothers and fathers, who are not in the military, so why will such personnel go about molesting people because they have a gun?
"The Navy won't tolerate that and the matter will be investigated as soon as we are furnished with details," Olugbode said.
The street which has the Navy quarters, links Katampe with Hamza Abdullahi Way, and few other roads in Kubwa, Abuja.