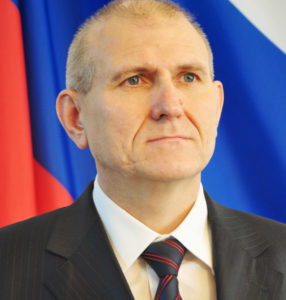 The Ambassador of Russia to Nigeria, Nikolay Udovichenko, says big Russian firms such as Gazprom, Rosatom and Lukoil are ready to work with Nigerian partners on mutually beneficial conditions.
Udovichenko, who disclosed this in a chat with newsmen last week, said the trade volume between Russia and Nigeria stands at about N150billion ($500million) annually. 
"But we should bear in mind that there is no oil and gas share in it. Not accidentally that while trade volumes between Nigeria and other countries decreased sharply this year, trade statistics between our countries stay at the same level or even become slightly higher. 
"In our trade relations, we are focusing on sharing technologies, modern solutions and supplying agric products to ensure Nigeria's self-sufficiency," he said. 
Udovichenko said his country looks to promote cooperation with Nigeria "in the sphere of power supply". 
He said, "Our giant companies such as Gazprom,  Rosatom, Lukoil  are ready to work with Nigerian partners on mutually beneficial  conditions.  In this regard,  I would like to  specifically  emphasize  Gazprom,  which is  keen on  developing  more active  ties  with Nigeria." 
He said Nigeria's investments in domestic gas supply will have a huge multiplier effect on GDP and create new jobs.  
"Gazprom is ready to develop joint projects across the gas chain in Nigeria and is looking forward to seeing the long-term policies for gas industry put in place.
"In this respect, the average Russian investor is encouraged by the New National Gas Policy drafted by the Ministry of Petroleum Resources and its "Nigeria-first" approach.
"So cooperation in gas market between Gazprom and NNPC may greatly benefit Nigeria. We hope that the companies will pass from purchases of spot gas to utilization of all opportunities that Gazprom possesses as global gas market leader," he said. 
He said while militancy in the Niger Delta region of Nigeria has not directly affected Russian companies, it has created adverse effect on the general investment climate in the country. 
"But, of course, all emergency situations negatively impact on investment climate. Obviously, any investor seeks safe haven and wants the security of his investments guaranteed, although the key task when entering a new market is  to find a reliable  partner in the country," Udovichenko added.  
Copyright Ships & Ports Ltd. Permission to use quotations from this article is granted subject to appropriate credit given to www.shipsandports.com.ng as the source.