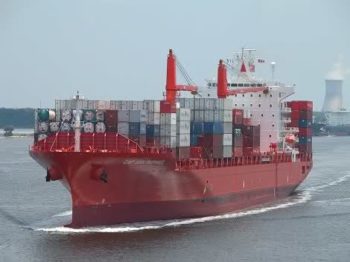 Hungry shipyards and shipping companies being eager to be top dog is a toxic cocktail which, combined with market optimism amid higher freight rates, is likely to distort the low ordering activity in the container shipping sector, according to shipowners' association BIMCO.
Container shipping majors such as CMA CGM, and most recently Meditteranean Shipping Company (MSC), have been tied to 22,000 TEU boxship orders, the world's largest containerships based on TEU capacity on the market so far.
French liner major has reportedly signed a letter of intent (LoI) with two Chinese yards on the construction of up to nine 22,000 TEU megaships.
Based on the LoI, CSSC Hudong-Zhonghua would be in charge of constructing five ships from the batch, while Shanghai Waigaoqiao Shipbuilding (SWS) would be entrusted with building the remaining four units set for delivery in 2020.
The order, estimated to be worth USD 1.5 billion, is said to be comprised of six firm ships and three options. However, CMA CGM is yet to confirm the order officially.
Another market rumor surfaced last week, linking MSC with an order plan for up to eleven 22,000 TEU boxships.
This time, the order would allegedly go to Korean shipbuilding counterparts, Samsung Heavy Industries and Daewoo Shipbuilding and Marine Engineering (DSME), with 6 and 5 units respectively.
When asked about the potential order, MSC told World Maritime News that it "was not commenting on this."
The oversupplied sector has seen almost no new orders placed over the recent period, with less than 400,000 TEU contracted since December 2015. As a result, the orderbook has come down from 4 million TEU to 2.6 million TEU, the lowest TEU-level since 2003.
Shipowners abstaining from new orders has aided the market recovery which has finally returned from the abyss it sank into in 2016.
Market players such as Maersk and Hapag-Lloyd believe that there is sufficient tonnage capacity present in the market already and that there is no need for more orders, especially when it comes to megaships.
The two companies said that they plan to refrain from ordering new ships in the next couple of years.
The container shipping fleet now holds the capacity of 20,356,656 TEU. Year-to-date, the fleet has grown by 1.8% and BIMCO forecasts that the rate will hit 3.3% for the full year.
In line with BIMCO's data, some 665,850 TEU of the new capacity is now active and some 450,000 TEU will be delivered during the remainder of the year. 41 ships with an average size of 14,223 TEU constitute 88% of additional tonnage, ranging from 9,400 TEU to 21,413 TEU. The latter is the OOCL Hong Kong, which will be joined by four sisters from Samsung HI later this year.
"Deliveries scheduled for 2018 are equally biased toward the larger sizes, as the upscaling of network capacity and hunt for lower unit costs continues. Currently, 77 ships with a capacity of 9,400 TEU and an average size of 15,578 TEU will amount to 82% of the new influx. However, it is anticipated that postponements and delays are likely to impact this schedule," BIMCO pointed out.
On the demolition side, there has been a significant slowdown, with only seven small units sold for demolition (9,639 TEU in total) in June, in comparison to the all-time high level in January where 99,899 TEU (29 units) left the fleet, a drop of 90%.
BIMCO forecasts a full year demolition of 450,000 TEU, out of which 306,824 TEU had already been demolished by mid-August.
The final four and a half months will see more Ultra Large Container capacity being launched. The scheduled order book shows 31 units with a capacity higher than 10,000 TEU, out of which 11 are larger than 20,000 TEU. BIMCO estimates that up to 25 of these ships will be delivered.  
Copyright Ships & Ports Ltd. Permission to use quotations from this article is granted subject to appropriate credit given to www.shipsandports.com.ng as the source.