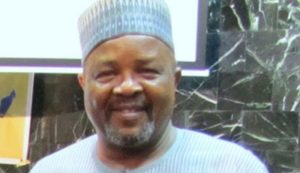 Immediate past Executive Secretary/CEO of the Nigerian Shippers' Council (NSC), Captain Adamu Biu has expressed concern over the increasing number of cadets Nigeria's foremost maritime academy in Oron churns out every year without a training ship for the cadets to go on the mandatory one year sea time experience.
Biu who spoke with newsmen recently at an event in Lagos said that there is no way the industry can absorb such high number of cadets.
According to him, unless we have a training ship, there is no merchant ship at sea that takes more than four cadets at a time.
He said, "I was privileged to serve as chairman of Admission of student to the nautical college in Oron. When we take in 100 cadets for navigation, another 100 for engineering and others, by the end of the day, you probably have 400 cadets coming in annually. The industry cannot absorb these and nobody we give you ship to train these people.
"If you take 100 cadets in one goal for navigation, you will need not more than four cadets per vessel. So it means we need minimum of 25 ships with four cadets each every year. Nigeria does not have a single ship and we are taken cadets for 24 ships.
"Nobody anywhere in the world is going to train that number of cadets for you because they have their own nationals. If you are talking of say two or three cadets, it is alright but not 100.
"This is why some of our colleagues in government circle say they are sending cadets to Philippines. I think that is good discussion for people who do not understand but what I have just said now is typical,"
He said the development has denied the cadets the opportunity of being gainfully employed with many of them roaming the streets.
Captain Biu said it is therefore necessary to dialogue with the government on how to reduce the number of cadets' intake even as he pointed out that most ships are also now automated.
"What we are doing is that we are denying these children the opportunity to go to polytechnics and other institutions to qualify and they come out wearing happiness calling themselves captain but they don't know the difference between their right and left leg and they can't go back to school so there life is wasted because they are unemployed," he said.
"As at today, ships are getting less money because everything is automated. When I was a captain, I had a crew of 45, but today a vessel of 20, 000 TEU"s of container does not have more than 14 people on board because everything is automated," he said.