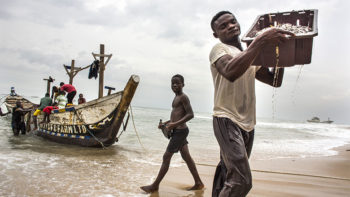 By Capt (NN) Sunday Daniel Atakpa
Three countries considered as being in the forefront of blue economy implementation – Republics of Ireland, Seychelles and South Africa – provide would-be implementers of blue economy with useful lessons. The lessons include the need for well articulated blue economy policy, robust legal and institutional frameworks, effective maritime security as well as adequate and accessible marine and maritime data among others. Two of these lessons, blue economy legal and institutional frameworks, would be discussed in this piece. It is important to establish from the outset that blue economy legal and institutional frameworks are intrinsically linked because the former precipitates the latter, and both are triggered by blue economy policy.
A blue economy policy articulates the policy direction of littoral states (although landlocked states can also emplace blue economy policies subject to the provisions of Arts 71 and 87 of the United Nations Convention on the Law of the Sea) for the attainment of sustainable development from the ocean. The 2012 Harnessing Our Ocean Wealth (HOOW) policy document of the Republic of Ireland, the Blue Economy Strategy Roadmap Implementation (BESRI) of the Republic of Seychelles and the Operation Phakisa policy document of the Republic of South Africa were initiated preparatory to the establishment of blue economy regimes in the respective countries. One unique blue economy principle that featured in the three different policies is the centrality of Marine Spatial Planning (MSP) to an operative blue economy. The MSP would be discussed in detail in subsequent editions.
In Nigeria, the 2 developed maritime economy sectors are the shipping and fisheries sectors. There is however currently no single comprehensive policy bridging these 2 sectors under a maritime economy regime. Nigeria's shipping policy (considered obsolete) is a stand-alone policy. Similarly, the Agricultural Promotion Policy (2016–2020) addresses agricultural objectives to the exclusion of fisheries which the Federal Ministry of Agriculture and Rural Development (FMARD) superintends. Meanwhile, the National Fisheries Development Committee (NFDC), which is the highest policy formulating body on fisheries matters in Nigeria, appears to operate in isolation from FMARD. Thus, there is no fusion of policies between key maritime stakeholders. This does not allow for synergized ocean economy development and accountability. More importantly,  this form of arrangement betrays the essence of MSP which aims at unifying and coordinating all maritime stakeholders in the national maritime space for the attainment of ocean sustainability alongside economic development through shared and common policy direction. The shared policy objectives are in turn translated into legal and institutional frameworks necessary for driving national blue economy regimes.
Legal Framework
The blue economy legal framework connotes legislative enactments for the establishment of blue economy under a balanced 3-dimensional (economy, environment and society) development. To give effect to her blue economy policy, the Republic of South Africa established the Ocean Act and the Integrated Ocean Governance regime. The Ocean Act was necessary to give Operation Phakisa the force of law as a blue economy component of South Africa's national development plan 2030. Operation Phakisa created 220 jobs and secured USD 32.1 million in stakeholder's investments in the first year of its implementation.  Similarly, the United States of America (USA) Magnuson-Stevens Fisheries Conservation and Management Act (MSA) of 1976 was amended in 2007 to enable her achieve long-term sustainability in fisheries. The amendment instituted a fish consumption regime whereby about 85 per cent of USA fish consumption is caught, grown or processed in other countries, thus allowing her time to replenish her domestic fish stocks. Although this has its disadvantage because each fish bought from a country with less stringent sustainability standards contributes to the decline of global fisheries. Notwithstanding, the regime helped the USA to sustainably grow her ocean economy which contributed USD359 billion to her GDP and created 3 million jobs and 149,000 business establishments in 2013; up from significantly lower figures in the pre-amendment era. Thus, the enactment of sustainable maritime legislations (where there is none) and amendment of obsolete ones to accommodate sustainability principles is a prerequisite for the establishment of blue economy.
Some of Nigeria's shipping and fisheries laws have generated areas of operational conflict and duplication of statutory functions while others are simply obsolete requiring amendment. For instance, there exist marginal conflict areas between the Nigerian Ports Authority (NPA) and Nigerian Maritime Administration and Safety Agency (NIMASA) operations and some other maritime agencies (inadvertently created by their establishment acts and deliberately exploited by their respective operators). This has led to inter-agency rivalries, loss of national revenue and a clog in the wheel of progress in some instances. Similarly, Nigeria's Sea Fisheries Act 1992 does not have provision for Illegal, Unreported and Unregulated Fishing (IUUF) and other evolving fisheries sustainability principles not envisaged at the time of its drafting. Thus, for Nigeria to emplace a blue economy regime, there is the need to rejig her obsolete legislations to conform to present day ocean sustainability realities.
Institutional Framework
The blue economy institutional framework covers the gamut of administrative and operational maritime entities established through legislative frameworks to actualize blue economy sustainable development objectives. The MSP is usually pivotal in blue economy institutional framework. It blends effective and judicious utilization of national maritime space by all maritime stakeholders through professional coordination. The MSP administrator is a versatile maritime expert per excellence.
The Republic of Seychelles created the Blue Economy Department (BED) in 2015 to administer her blue economy project. Since its establishment, the BED (which actually matches her small economy of USD1.5 billion GDP and a population of less than 100 thousand as against Nigeria's over USD 490 billion GDP and a population of over 180 million) has been the sole administrator of the country's blue economy and answers to the central government on all blue economy matters. Similarly, under Operation Phakisa, a Department of Planning, Monitoring and Evaluation (DPME) domiciled in the Presidency provides the Presidency with a weekly monitoring report on the country's blue economy. These mechanisms establish proper coordination and accountability for both countries' blue economy regimes.
Nigeria's array of maritime institutions includes NPA, NIMASA, Nigeria Shippers Council (NSC), Maritime Academy of Nigeria (MAN) Oron, Federal Department of Fisheries (FDF) and the Nigerian Institute of Oceanography and Marine Research (NIOMR) among others. The existence of some of these institutions under different ministries that operate independent of the other does not allow for proper coordination of the blue economy activities and proper accountability for the blue economy worth of the nation.  Also, such arrangement tends to put a strain on national budget through different budgeting arrangements.
A Way Forward
Hereunder is a humble and modest suggestion of a progressive approach to the establishment of a blue economy in Nigeria. The first task is to establish a blue economy policy by constituting a team of maritime, economic and ecological experts to fashion out an all-inclusive blue economy policy. I designate this team the Blue Economy Implementation Strategy Team (BEIST). The Team is to, among other things, conduct lectures, town hall meetings, conferences and seminars and workshops on blue economy with maritime stakeholders across the country with the aim of collating their respective views on the planned blue economy regime. The Team is to articulate the different stakeholders positions into a policy direction for the blue economy. Stakeholders are generally composed of government and non-governmental bodies. The governmental bodies include but not limited to Ministries Departments and Agencies (MDAs) such as the Federal Ministries of Transport, FMAD, Environment, Culture and Tourism, Nigerian Navy, NIMASA, NPA, NSC, FDF, NIOMR, National Biotechnology Development Agency (NABDA) and MAN. The non-governmental bodies on the other hand include shipping companies under the aegis of Ship Owners Association of Nigeria (SOAN), fishing companies under the aegis of Nigerian Trawler Owners Association (NITOA), the academia under the aegis of Nigerian Maritime universities and Institutes (NMUI), Maritime Writers Association of Nigeria among others.
The BEIST is to draft a Blue Economy Bill (BEB) from the articulated views/comments and expert inputs of stakeholders. The Bill is to include among others, the establishment of a MSP authority. The body could be a coordinating ministry, department or agency empowered to superintend all blue economy stakeholders in the country. The blue economy coordinating ministry, department or agency is to be headed by an administrator who is a distinguished maritime expert in both professional competence and high moral rectitude whose primary focus would be selfless service to the nation. These strategies, in my humble view, would serve as the very first step in the establishment of a credible blue economy for Nigeria.
Copyright Ships & Ports Ltd. Permission to use quotations from this article is granted subject to appropriate credit given to www.shipsandports.com.ng as the source.