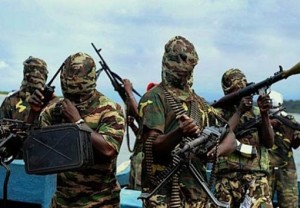 The Niger Delta Avengers (NDA) has announced a suspension of its ceasefire with the Nigerian government.
In a statement on Friday, the group's spokesman, Murdoch Agbinibo, said the group would renew hostilities.
The militant said the fresh attacks would be worse than those of 2016.
"We can assure you that every oil installation in our region will feel the warmth of the wrath of the Niger Delta Avengers," the statement read.
Before the peace deal, activities of the group made Nigeria's oil production to reach its lowest level in at least 30 years.
The government had expressed delight over the deal, which saw Vice President Yemi Osinbajo touring the region.
But Agbinibo said Niger Delta elders under the umbrella of Pan Niger Delta Forum (PANDEF) fell for the antics of the Federal Government, which is "only interested in our oil".
"To the elders of the Niger Delta, PANDEF, we warned you against the antics of the Nigerian government yet you requested a chance to broker a new vision for our people; we told you and the rest of the world that the Nigerian government is only interested in our oil wells and not our well being yet you told us the signs are different this time around.
"We want to make it known to the PANDEF and the Nigeria government that our call for halt on 'Operation Red Economy' is officially over.
"We have just concluded headcount of our operatives across the Country; we are pleased to announce that all our operatives are intact and focused; ready to implement instructions from the high command of the NDA in the going few days.
"To the Nigerian government, we are aware of Egina FPSO built in South Korea by Samsung to be operated by Total Nigeria. One of the biggest FPSO built in South Korea has started its voyage to the oil fields of the Niger Delta to further exploit us while our concerns are left unattended. We are presently tracking and monitoring its movement and God willing, it shall not operate successfully amidst the return of the fury of the Niger Delta Avengers," he said.   
Copyright Ships & Ports Ltd. Permission to use quotations from this article is granted subject to appropriate credit given to www.shipsandports.com.ng as the source.