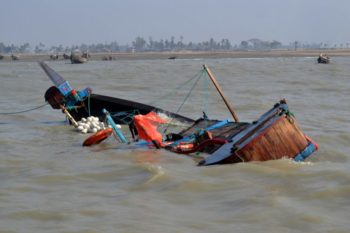 The Lagos State Government in a renewed effort to stem the tide of boat mishaps often caused by illegal operations on the inland waterways. says it has stepped up efforts to clamp down on illegal jetty and boat operators in the State.
Managing Director of the Lagos State Waterways Authority,  Oluwadamilola Emmanuel, in an interview with journalists on Wednesday, said that strict enforcement would be meticulously carried out across the State, adding that the Government would stop at nothing to ensure that operators adhere to the safety standards.
"Being a developing sector, one of the things that LASWA has had to do is to be very strict on enforcement.
"Enforcement is going to be an ongoing thing because you would constantly have those people who are going to default. In terms of clamping down on jetties that are substandard is something that LASWA has been looking to go round the state to clamp down on illegal jetties," he said.
Emmanuel explained that while the State Government was working round the clock to improve on the sector for optimal performance, the core objective of LASWA is to ensure that safety, being a key feature of water transportation is not compromised.
He said the safety of passengers getting on a boat was far beyond wearing life jackets, stressing that it was important to also ensure that the jetty or boat operators had put other safety measures before embarking on any journey.
"For us in LASWA, safety is really our culture and one of the things we promote in the last few years is the wearing of life jackets. If you go across the inland waterways you will find minimal people who would not comply, most people are generally aware that they should wear their life jacket.
"The very first thing one should note is the kind of jetty they are getting on, first of all is it a substandard jetty, is it a state approved jetty, does the jetty have any issue and then even if they are getting on a boat, which boat am I getting into? The life jacket; is it ripped, does it have any damage? Then who is the captain of the vessel?