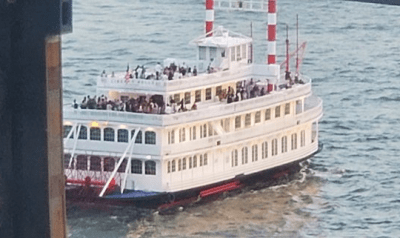 The owners and captain of a riverboat in New York City have been arrested over an illegal charter cruise that allegedly violated social distancing orders and alcohol laws.
New York City's Sheriff Department said the Liberty Belle was intercepted at New York City's Pier 36 on Saturday. The owners and captain were arrested; charged with violating social distancing provisions of the state and local COVID-19 Emergency Orders, operating an unlicensed bar and bottle club, and violating Navigation Law, the Sheriff's office said in a Tweet.
The Liberty Belle is a classic-style riverboat operated by Empire Cruises and chartered out for private events. It has maximum standing capacity of 600 passengers, although it was carrying 170 passengers during the charter cruise.
"After constituents reached out with their concerns about a party boat on social media, I alerted @NYCMayor & @NYGovCuomo who alerted the sheriff who handles health & civil violations," wrote Gale Brewer, the Manhattan borough president whose office handled the complaint, in a tweet.
The New York Times reported that the boat's captain was issued a summons for not properly displaying its identification number.