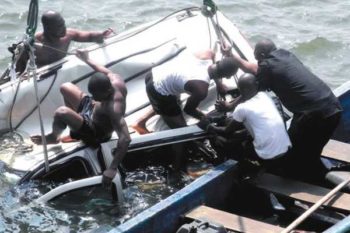 The bodies of a retired Nigeria Air Force (NAF) officer, late Air Vice Marshal Olufunsho Martins and his driver have been recovered from the Lagos lagoon by officials of the Lagos State Emergency Management Agency (LASEMA) and local divers.
The Ford Explorer Sports Utility Vehicle, which the retired air force officer and his driver were travelling in, somersaulted late Saturday night and plunged into the muddy section of the lagoon.
The vehicle was brought out of the lagoon on Sunday, by LASEMA officials, with both occupants dead. 
Late Martins was said to be going to his residence in Park View Estate, Ikoyi when the accident occurred at about 10.55pm on Saturday.