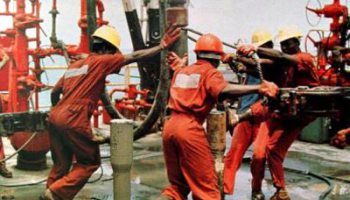 Vice Chancellor of the University of Maiduguri (UNIMAID), Ibrahim Njodi, says the search for oil in the Lake Chad basin will continue despite the recent Boko Haram attack.
Some senior lecturers of the university and staff of the Nigerian National Petroleum Commission (NNPC) were part of the team ambushed by Boko Haram insurgents during an oil exploration mission near Lake Chad.
Some members of the team, including a professor from the university, some of its lecturers as well as staff of the NNPC were killed during the attack.
Speaking when a delegation from NNPC and the Ministry of Petroleum Resources visited him in Maiduguri over the weekend, Njodi said the university was not deterred by the terrorist attack and abduction of its staff.
He told the delegation that though the university community is distraught by the incident, the institution cannot "chicken out" from doing what it is supposed to do.
He said the university would continue with the task when eventually the NNPC reorganises and returns to exploration work in the area.
Tracing the university's partnership with the corporation to 12 years back when the NNPC teed-off exploration activities in the Chad basin, Njodi described the attack as "an act of God".
He said though the situation is painful, it must be seen as a necessary sacrifice for the development of the country.
He called on the NNPC to stand firm beside the university and the families of the bereaved as well as provide "the much-needed support to overcome the massive setback brought by the insurgent attack."
An NNPC official who led the delegation, Saidu Mohammed, said the corporation would do "everything within its means" to support the university and the families of the victims of the attack.
"We have been great partners with the University of Maiduguri for many years and certainly when losses like this happen and under this circumstance, we cannot abandon our partners to their fate," he said.
Copyright Ships & Ports Ltd. Permission to use quotations from this article is granted subject to appropriate credit given to www.shipsandports.com.ng as the source.