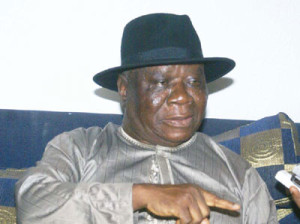 Prominent community leaders in Nigeria's restive Niger Delta oil hub threatened on Monday to pull out of peace talks with the government unless their demands were met by November 1.
They told a news conference in Abuja the federal government had failed to implement promises to drag the region out of poverty, a key demand by militants who had stopped attacks on oil pipelines to give peace talks a chance.
"Human endurance has a limit beyond which one cannot predict what the outcome will be," said Chief Edwin Clark who spoke for the Niger Delta leaders
The Niger Delta leaders had presented President Muhammadu Buahri a list of 16 demands at a meeting on November 1, 2016 after which the main militants groups halted attacks in the southern swamplands to give the talks a chance.
"If, at the expiration of the November 1, 2017 ultimatum, the Federal Government fails and/or refuses to accede to these lawful and legitimate demands of the Niger Delta people, PANDEF may consider pulling out of the ongoing peace process in the Niger Delta," Clark, who is chairman of the Pan Niger Delta Forum (PANDEF), said.
The group's demands include more development aid for the impoverished region, the relocation of oil companies' regional headquarters to the Niger Delta region and a clean-up of polluted areas.
Last week, the Presidency said Nigeria's Acting President will meet again with community leaders from the region.
Osinbajo was appointed by President Muhammadu Buhari to head the country while the leader remains in Britain on medical leave for an undisclosed ailment.
Oil exports are now set to exceed 2 million barrels per day in August, the highest in 17 months, from as little as just over 1 million bpd at certain points last year.
That is due to a steady decline in attacks on pipelines, providing a much-needed injection of cash into Nigerian government coffers.
"It is a matter of regret to note that the efforts of PANDEF to help Nigeria climb out of recession, through a stable oil and gas production regime, have not been met with tangible reciprocal action by the Federal Government," Clark said.
Copyright Ships & Ports Ltd. Permission to use quotations from this article is granted subject to appropriate credit given to www.shipsandports.com.ng as the source.