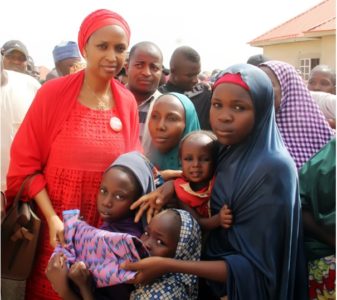 As part of her social responsibility to the society, The Nigerian Ports Authority (NPA) has presented food and non-food relief materials to victims of Boko Haram insurgency in Yobe State.
The items donated include; 750 bags of rice, 400 bags of beans, 350 bags of Semovita, 160 bags of corn, 1,400 pieces of wrapper, 5,000 blankets, cooking oil, mats and rechargeable lantern among others to IDPs in Pompomari, Abari, Fuwuri, Ngabaruwa, Gujba, Damaturu, Kukareta, Gulani and Plot 13.
The Managing Director, NPA, Hadiza Bala-Usman while presenting the items to Yobe State Government at a courtesy call on the deputy Gov. Engr. Abubakar Aliyu who stood in for Gov. Ibrahim Gaidam regretted the cause of the insurgency and called on deliberate measure to be taken to address the errors.
The MD who was represented by the General Manager, Human Resource, Alhaji Yahaya Gana Bukar said Boko Haram members were not born but created, stressing that, "new efforts must be deliberately and constantly made to ensure that we correct whatever error of the past, and chart a new course for the future of Yobe State and indeed that of the Northeast to come out strong from this catastrophe".
Bala noted that the effect of Boko Haram insurgency of the economy of the country and the northeast in particular is so intense that it will take a long time for a complete recovery from the crisis in all facets of human endeavor with the destruction estimated at almost 5.9 billion US dollars.
She warned, "We must resolved now to never let this nature of crisis befall our people and country again," she added
She said the food items donated to the state is only to cushion the food demands of the displaced people.
Earlier, Deputy Gov. Abubakar D. Aliyu, said the intervention came at the right time when it's most needed by the affected people.
He however appeal to the NPA to take further step by providing more assistance in the livelihood of the displaced people by providing building materials as many of the people have now returned back to their homes.