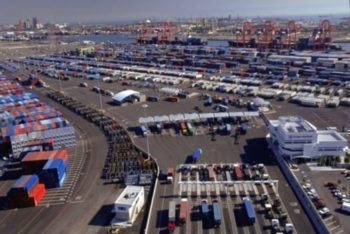 French industrial conglomerate, Bollore, plans to invest €400 million ($496.28 million) from next year to build a second container terminal at Ivory Coast's main port of Abidjan.
Deputy Chief Executive Officer of Bollore Transport and Logistics, Philippe Labonne, spoke on the side-lines of an African CEO conference in Ivory Coast's commercial capital late on Monday.
The main port of Abidjan is used to ship cocoa beans from Ivory Coast and is also a vital supply and export route for landlocked countries to the north. Ivory Coast's authorities want the port to become a regional hub.
"We start in June or July 2019," Labonne told Reuters. "It's a question of building a platform and setting up the port equipment."
He said the project would be financed by partner Maersk, and the new terminal would be operational from June 2020.
Port authorities were, with Chinese help, already widening the canal leading to the port to reach a 16-metre depth that would enable larger ships to dock, he said.
They aimed to boost terminal capacity by around 15 percent from its current roughly 1.2 million TEU.
Copyright Ships & Ports Ltd. Permission to use quotations from this article is granted subject to appropriate credit given to www.shipsandports.com.ng as the source.