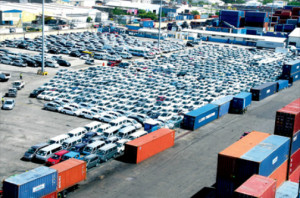 The Deputy Comptroller-General of Customs on Tariff and Trade, Umar Abubakar, says the establishment of bonded car terminals will boost import and employment rate in the country.
Abubakar said on Thursday in Abuja that the essence of introducing car terminals was to increase imports and to push up the level of employment, especially for the youth.
He said that imports increased revenue collection, adding that this would boost revenue generation for the service.
"Our (Customs) intention of establishing bonded car terminals is to boost employment and imports.
"We have discovered that what attracts our youths to other neighbouring countries is that most of those countries had car parks close to their seaports, where you find all kinds of jobs like mechanic, panel beater, vulcanisers and other related jobs.
"We find out that these car terminals will help generate jobs for our youths and this will also enhance standard of living because it will help our youths to stop going to Cotonou to seek for jobs; they can also get these jobs in Nigeria," Abubakar said.
He said that in a country where youths were engaged in different kinds of jobs, crime rate tended to reduce.
According to him, a sub-committee has already been formed comprising Association of Motor Dealers Of Nigeria (AMDON) and customs to work out the modalities on car terminals.
The NCS in January after banning the importation of vehicles through the land borders, said it would grant licences to car dealers for bonded car terminals across the country to ease stress of doing business.
Customs said that the policy was aimed at strengthening national economy, providing job opportunities for the youth and to strengthen the businesses of motor dealers in the country.
It said that the establishment of bonded car terminals would have multiplier effect, adding that it would bring about commercial banks opening branches in the places (terminals) for transactions.
"Mechanic villages will spring up around the terminals, spare parts dealers will also spring up and even food vendors; by so doing, the policy will be creating jobs and empowering motor dealers.
"The policy comes with the prospect of operating bonded car terminals and part of the plan of NCS is to grant licences to motor dealers such that they will have bonded car terminals across the country."
Copyright Ships & Ports Ltd. Permission to use quotations from this article is granted subject to appropriate credit given to www.shipsandports.com.ng as the source.